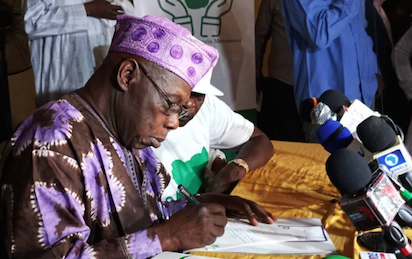 Obasanjo formerly registering as a member of Coalition for Nigerian Movement
By Daud Olatunji
ABEOKUTA-Former President,Chief Olusegun Obasanjo at exactly 12:41 pm arrived the premises of the Secretatiat of Nigeria Union of Journalists ,Ogun State Council in Abeokuta in company of former governors of Osun and Cross River states, Olagunsoye Oyinlola and Donald Duke .

Obasanjo who clad in Adire/Kampala attire adorned with a face cap of the movement formerly registered as a member of Coalition for Nigerian Movement .
Obasanjo who was welcomed by the Chairman of the Council,Wole Sokunbi immediately filled the registration form of the Coalition for Nigeria Movement handed over to him by Oyinlola.
Many men and women had assembled at the NUJ secretatiat as early as 9:am to join the movement .
Coalition for Nigeria Movement register was opened for prospective memebers and as at the time of filling this report no fewer than 50 persons have registered .
Detals later ….