BY PETER DURU
MAKURDI – The Christian Association of Nigerian, CAN, has appealed to the Federal Government to avail compensation to the victims of the new year days killings in Benue state where over 73 lives were lost.
Speaking Monday at the stakeholders meeting organized for members of the National Economic Council Committee on the herdsmen/ Farmers crisis in Makurdi, the Benue state chairmen of CAN, Rev. Akpen Leva lamented that the people had been abandoned by the Federal government despite the huge losses suffered directly and indirectly by the victims.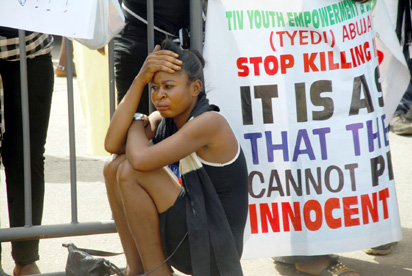 Rev. Leva said, "considering the losses suffered by the people of Benue state, the federal government has not found it expedient to avail the victims any form of compensation, it is indeed saddening.
"What we demand for is adequate compensation for those killed, we need compensation for those in the Internally Displaced Persons, IDPs, camp where over 100,000 persons are currently taking refuge.
"We also demand the arrest and prosecution of the leadership of Maiyetti Allah kautal Hore because they had issued threats before the killings, that is the more reason why they should be made to answer to the law because nobody should be seen to be above the law."
"Our fear is that the incursion in our communities is another grand plan to Islamize the country because the sequence of the attacks clearly shows that they are carried out in Christian communities."
On his part, former military Governor of Benue state, General Atom Kpera (Retired) cautioned that the herdsmen menace if not checked could lead to anarchy in the country.
"We are gradually walking into anarchy in this country. People may be forced to take up arms to defend themselves if something urgent is not done to stop the killings.
"The federal government must know that we all belong to this country and we must all be protected from the menace of herdsmen and those perpetrating the killings arrested and made to face the law.."
On his part, the Tor Tiv, Prof. James Ayatse faulted the timing of the deployment of military personnel in the state.
According to royal father, "why did government announce the deployment of the force way ahead of time allowing grace period to allow the killers of our people to run away. I have a concern over the entire arrangement." He lamented.