By Nwafor Sunday
The Nigerian Senate has on Tuesday, condemned the demolition of the factional secretariat of Kaduna APC, located at Sambo road, newsmen report.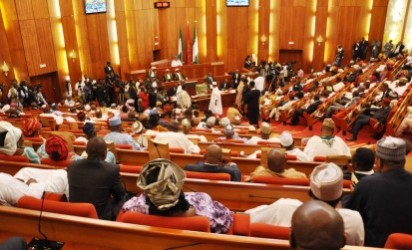 Senator Shehu Sani who raised a point of order, expressed his worry over the demolition of the building without prior notification.
According to him,  "how can a democratically elected governor demolish a building without notice", he said.
Speaking further to newsmen, Sani opined that APC factional secretariat demolition came a year after the residence of the Vice Chairman of APC, North West Zone was allegedly demolished by the same Governor.
Newsmen equally gathered that the owner of the property is Senator Suleiman Hunkuyi.
In his reaction to the demolished building, Sen Hunkuyi alleged that Governor El Rufai personally led the demolition of his property.
In his own part, the deputy senate president, Ike Ikweremmadu said, "Democracy does not come with this type of tyranny and impunity. I condemn this act and hope it doesn't happen again. There must not be abuse of power and office, there's a limit to the patience of our people. I sympathize with the Sen. who lost his building."  He therefore referred the order to the committee on Ethics, Privileges and Public Petitions.
Recall that Governor has reeled out reasons for the demolition of the building. His words, "This morning a building on 11B Sambo Close was removed for flagrant violations of land use and non-payment of ground rent since 2010.
"This illegal violation of use had begun to distress neighbours who were being forced to endure an influx of thugs and blockage of the road.
" The Kaduna Geographic Information Service (KADGIS) issued a revocation notice of statutory right of occupancy No. KD. 16712, that covers 11b Sambo Close in the Ungwan Rimi area.
"The appropriate notice of revocation was delivered at 28 Inuwa Wada Road, the registered address of the company that held the title to the property.
"The notice was also delivered to the building in question, and sent by post to the registered address of the previous title holder.
"The land has now been allocated to KASUPDA for the purpose of developing and maintaining a public park that will provide a green area and a serene place for recreation in that residential neighbourhood.
"KADGIS wishes to remind all title owners to be fastidious in complying with the terms of their allocation. The purpose of allocation of land cannot be wilfully altered; neither can title holders lawfully neglect to pay their ground rents.
"The Kaduna Geographic Information Service (KADGIS), as the government agency charged with ultimate responsibility on land matters in Kaduna State, calls for the utmost cooperation by the public with all our agencies.''