By Adeola Badru
IBADAN-A foremost playwright and culture activist, Professor Akinwunmi Ishola has died at his Bolajoko Estate home in Ibadan on Saturday at the age of 78 years.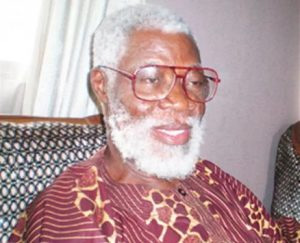 While confirming the incident to Vanguard on telephone, one of his former students, Mr. Sola Ajayi said: "The news of his death really shocked me when I heard this morning. He was a legend and and he left behind good legacies," praying his soul to rest in peace.
The late playwright, who had been down with illness for about two years, had several works to his credit which include, 'Oleku, ' 'Kosegbe, ' 'Saworoide,' 'Agogo Eewo,' among others.
Born in Ibadan in 1939, Prof Ishola attended Labode Methodist School and Wesley College in the capital of the old Western Region of Nigeria.
He studied at the University of Ibadan, earning a B.A. in French. He also earned an M.A. in Yoruba Literature from the University of Lagos in 1978 before commencing academic work as a lecturer at Obafemi Awolowo University where he was appointed a professor in 1991