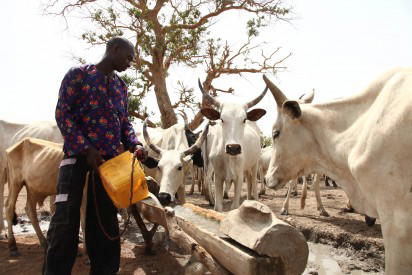 herdsmen
By Joseph Erunke
ABUJA – THE Nigerian Army said its efforts aimed at fishing out criminals and protect farmlands in Benue State and it environs on the ongoing Exercise Ayem Akpatuma was beginning to yield tremendous result there.
This followed the arrest of ten herdsmen by troops of Sector 1 Sub-Sector A, deployed at Yelwata on Monday.
The Army, in a statement by its spokesman, Brigadier General Jude Chukwu, said the troops while on routine patrol arrested ten herdsmen destroying farmland at Tse-Tigir and Tse-Ndugh villages on Monday 26 February 2018.
" While in the act of destroying the farmland the herdsmen sighted the aggressive troops and fled into the bush. The determine troops pursued and arrest them.
"Items recovered were : 5 motorcycle, 2 machetes, some assorted charms and the sum of One Hundred and Twenty Thousand Naira (N 120,000:00) only. Suspect and items were handed over to the Nigerian Police for further necessary action.
"The Nigerian Army is determine to fish out criminals and recover weapons use in killing innocent citizens. Therefore the public is please requested to cooperate and support the Army on the ongoing exercise, "the statement said.