In a bid to enhance the leadership skills of departmental student presidents in the University, the President of Benson Idahosa University, Bishop F.E.B. Idahosa has launched the first ever 'President's Club' in the University.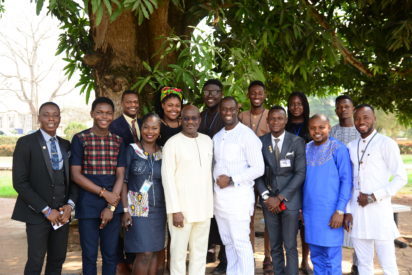 Speaking during the launching, the President of Benson Idahosa University, Bishop F.E.B. Idahosa said the main objective of the club is to mentor these student leaders on how to lead their followers effectively and further instill moral and ethical values in them.
He said: "Mentorship for you personally is one of the major reasons for this club; then mentorship on how to lead. We want to mentor you personally so you can be good leaders and also mentor you on how to groom good leaders with moral values."
According to him, leadership goes beyond training just a generation.
"Leadership is always thinking generationally, I don't want to raise leaders for one generation but for three generations. After our monthly interaction, I want you to teach somebody, who will teach another person. So if I am working with you, then I expect that you will teach two generations."
The President noted that the Presidents Club is not to replace the Resident Advisor (RA) system of the University.
The Deputy Vice Chancellor of Benson Idahosa University, Prof. Sam Guobadia disclosed that the establishment of the club is line with training leaders who would lead the change.
Prof. Guobadia noted that putting a group of students together who would constantly liaise and find out what is going on in the various associations is something that is very close to his heart.
"When I heard of this launch, I saw a hierarchical structure in my head, where we have the Proprietorship of the University, and then we have the Council and the Management team. At the other level, we have the structure or group of students we can reach out to, in other to know what is happening."
"This Club will benefit every one of you because when you find yourself in a group like this; it is a chance for you to develop your leadership and social skills and most importantly, life skills. Remember, to be a great leader, one has to exhibit certain qualities. These qualities can be learnt at home, in schools or in a forum like this," he added.
The President's Club is poised to bring about a paradigm shift in students approach to becoming leaders which would help them in their future endeavours.