By Ishola Balogun, Ebun Babalola, Rotimi Agbana & Olayinka Latona
When MultiChoice Nigeria, announced the return of Africa's biggest reality television show, Big Brother Nigeria, last year after 10 years of being off the air, many Nigerians expressed reservations. This is not because they didn't like the show which yearly turns the star winners into instant millionaires, but principally, because they didn't want to be associated with the worrisome level of perceived 'immorality' and 'unthinkable things' that have become the stock in trade of Africa's biggest reality show.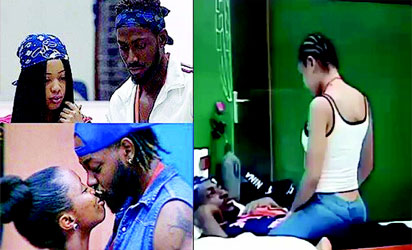 Being a popular franchise solely dedicated to the Nigerian market, BBNaija was conceived in 2006, as a platform to promote the Nigerian brand as well as the rising dominance of the country's entertainers on the entertainment scene in Africa.
Obi Asika, then CEO of Storm 360, who was the producer of the ground-breaking reality show, once argued that the show was more than putting adults in a house and have cameras follow their every move. For him, it was bigger than that, as he planned to use his then production crew and music to sell the Nigerian image to millions of Africans. But today, that idea had been defeated, and what has become of the show is better imagined than said. While many Nigerians described it as 'borrowed culture which has affected our morals negatively," others commended the producers, saying "the show is pretty unique and entertaining."
However, what you cannot take away from the yearly show is that, while it lasts, its actions stir divergent reactions on social media, with some viewers questioning the morality behind the show just as others called out Nigerians to enjoy the show and stop condemning housemates' acts. This year's edition is not different.
As the theme suggests, 'Double Wahala', the ongoing BBNaija is punctuated with immorality and youthful exuberance. Entering its 4th week last Sunday, like other previous editions, discordant tunes have since continued to trail the show. Indeed, unwholesome activities in the house have taken exhilarating twists and turns which many have described as unfit for public consumption.
The show which began with twenty housemates about four weeks ago had its third eviction show on Sunday 17, 2018. Two housemates, Kbrule and Khloe were disqualified for breaking certain house rules while four other housemates, Princess, Bitto, Dee One and Vandora, were evicted through audience's vote.
In their desperate quest to smile home with the ultimate price of N45million and a brand new SUV, the housemates seem to forget that virtues such as morality, dignity, self-respect, posterity and maturity exist; they all have their eyes fixed on the price, throwing caution to the wind as they display all manner of immaturity, immorality, envy, jealousy, violence, etc, with reckless abandon.
The many controversies so far
Barely four weeks into the show, a lot of controversies have trailed the show. But the housemates and organizers were obviously having fun. With the introduction of certain twists to activities in the house, the housemates were encouraged to engage in sexual perversion just for the fun of it.
Provision of condoms
What could be the motive behind providing a carton of condoms as part of supplies for the housemates if not to encourage them to have sex at will but with protection to forestall unwanted pregnancy or protection against sexually transmitted diseases? Shockingly, in less than three weeks of entering the Big Brother house, the packets of condom had been depleted. Does this mean the housemates have been having sex or they have been using the condoms as balloons?
Kissing competition
Kissing was like a regular thing among the housemates, even among those who were not dating officially. In fact, they occasionally engaged in kissing competitions just to determine who was a better kisser among them.
Housemates dating and  having sex at will on live TV
It wasn't surprising to see that few days after entering the big brother house, housemates began exchanging romantic overtures. Miracle and Nina were always together, Bam-bam and Teddy A rarely left each other's arms, Cee-C dominated Tobi's space in what seemed to be a jealous and domineering hypnosis. Alex and Leo recently ignited a tryst nobody can predict its destination yet.
But for Miracle and Nina, they seemed to be the trailblazers charting the love path for others. Just after the usual house party penultimate Saturday, which was also Miracle's birthday, seeing that she apparently had nothing of more value to offer him as birthday gift, fellow female housemate, Nina, who had before that day been masquerading herself as Miracle's lover, decided to quietly make love to him while others were asleep as his birthday gift.
Bam Bam and Teddy A had been discreet about their sexual moments; they usually sneaked to the bathroom, away from the prying eyes of other housemates to have sex. Cee-C and Tobi had been shameless about their romance engaging in hot romance anywhere the urge met them.
To make the matter worse, the organizers made the video clips of every romantic activity available for download on their official website. The question therefore is what image do they intend to paint about Nigeria to the world? Recall that in 2013, Nigeria's female representative in Big Brother The Chase, Beverly Osu, also indulged in public sexual activity with the South African, Angelo and the video went viral on social media.
Masturbation
Biblically, masturbation of any form is regarded as sexual perversion which is a sin against the human body. Most societies around the world frown at it, but it doesn't seem to be an anomaly for Big Brother Naija.
Some may want to argue that it was preferable for Ahneeka to have masturbated rather than have sex with one of the male housemates just like Cee-C, Bam-Bam and Nina have been doing. She laid on her bed at night while others were asleep and pleasured herself sexually with her fingers till she convulsed in ecstatic orgasm.
The endless quarrels
In less than four weeks, controversial housemate, Cee-C, had locked horns with nearly every other housemate for one silly reason or the other. One quarrel was for cooking for only herself and Tobi, (her boyfriend and fellow housemate), a move other female housemates weren't comfortable with.
Shortly after the show began, she warned other female housemates to steer clear of Tobi because she was in love with him, which was another move which generated several altercations between her and other female housemates.
When Big Brother introduced the 'pairing twist' to the game, paring Cee-C with Lolu annoyed her because she wanted to be with Tobi. Their incompatibility led to a fight which hurt Tobi's 'manhood' after Cee-C injured him with the chain used in tying them together as partners.
Kloe and Dee One hurled abusive words at themselves over Khloe's bossy attitude while she was head of house; it got so bad that Dee One labeled her "HIV patient" because of her looks and attitude.
Secret tasks
Many have argued that Big Brother may think he was being creative and innovative by giving some of the housemates secret tasks to undertake, but he was only planting enmity, strife, envy and jealousy in their minds against each other.
One of such was when he asked Khloe to seduce Leo to fall in love with her to make Kbrule, her partner, jealous and Khloe succeeded. She became so desperate to win the secret task that she saw nothing wrong in striping stark naked just to seduce Leo.
However, commotion broke out when they exchanged abusive words on Saturday after the house party, where Khloe described Kbule's mother a prostitute, which made him threaten to deal with her even after they return to Nigeria after the show.
Celebrities react
It's a bad influence on our children——Alex Eyengho
Commenting on the programme, popular film maker, Alex Eyengho said he never supported the show from the inception, adding that it was a very bad influence on our children. "I have never supported the entire concept be it Big Brother Africa or Big Brother Naija. There is absolutely nothing African about the whole concept and program. If anything, the program is anti-Africa and Africaness. It is a very bad influence on our children. The program is an insult to who we are as Africans. The program should be scrapped or the name changed to Big Brother Western. This is because everything they do there portrays nothing but Western way of life. What happens in that so called Big Brother Africa/Naija House is not our way of life as Africans," he opined.
It is unsuitable for broadcast—Nobert Ajaegbu
For Nobert Ajaegbu, a film maker and marketer, the African tradition of decency and morality should not be thrown to the winds. He disagrees with the moral standards set by the show. "I am of the opinion that in as much as people reserve an inalienable right to express themselves, the African tradition of decency and morality should not be thrown to the winds. With all sense of responsibility and without prejudice, I personally disagree with the moral standards set by the show. It is incompatible with my being and my religion. I consider the programme unsuitable for broadcast. I do not subscribe to it. I will not let my children watch it. I would have sued for an educative or enlightenment programme," he said. He suggested that we should go back to our old paths and indulge in programmes that will heal and make our society a better place. "We should not encourage moral decadence," he added.
It paints negative picture of Nigeria and its values——Singer, Felix Duke
Veteran singer, Felix Duke, equally condemned the entire show, describing it as "Arrant nonsense". According to him, the show in itself promotes sexual perversion, painting a negative picture of Nigeria and its values. That big brother as a show is arrant nonsense; how can they lock grown up people in a house for such a long period of time and expect that they won't have sex at will? I understand they even provided them with condoms, what does that mean? It means they can have sex and it is rubbish. Why won't they have sex, in fact they are lucky that they haven't had sex beyond expectation, where someone would be rushed to the hospital because of excess sex" he said in annoyance.
The show is more focused on selling sex—Singer Jaywon
Prolific singer, Jaywon, spared nothing in condemning the provision of condoms at all in the first place.
"Why provide it in the first place if not that you're encouraging them to have sex, which shouldn't be the focus of the reality show", he said with disgust. He added, "It seems people are more focused on the sex part of the big brother show more than any other thing and it is not supposed to be so.
I'm shocked housemates engaged in random sex—Singer, Djinee
Soulful RnB singer, Djinee wasn't left out saying he was shocked to discover that the condoms had been depleted, which obviously meant that the house mates were engaging in random sex. "I didn't know they were all having sex like that, I thought it was only Miracle and Nina because it was only the two of them that I knew about. Or were they the only two who finished all the condoms? Maybe they used the rest as balloons", he said with sarcasm.
Clerics lament
It's an assault on morality of our youths—Bishop Ransom
Chairman, Christian Association of Nigeria, CAN, Kano chapter Bishop Ransom Bello described Big Brother Naija as an assault on the morality of the young people in the nation. He said the programme did not build the moral standard of the young people, but rather damaged their moral values and also encouraged the youths to be involved in immoral acts. His words: "I don't understand the motive behind such apparent immoral and senseless behaviour publicly on television. I am opposed to it, I don't support it in anyway. The programme should be stopped, if there is a legitimate way of stopping it. The reality show is damaging a lot of things, it is not adding any value to our system.
BBNaija has no positive impact on Nigerians—Pastor Odesola
Assistant General Overseer, to Pastor E A Adeboye on Administration and Personnel, Pastor Funso Odesola said "Big Brother Naija is morally bankrupt. The programne has nothing to offer our teaming youths including the adults, apart from the monetary gain the organisers would realise from it. I don't know the development that this kind of programme will bring to Nigeria.
BB Naija exposes our youths to immorality—Samuel Kwamkur
Director of Legal and Public Affairs of Christian Association of Nigeria, CAN, Samuel Kwamkur said "it is unfortunate that various regulatory bodies allow such reality TV Show in Nigeria. BBNaija. encourages the viewers particularly the youths and the younger ones to engage in immoral behaviour.
As a church, we are concerned about the moral implication on those participating, the viewers and the nation. We are concerned that young people will be so exposed to certain things that are immoral.
If only there could be an educating version of BBNaija where some intelligent people in like manner will be housed and they make them compete for similar prizes. The funny thing about it is that you hardly see anybody rewarded because he distinguishes himself in a field of study, science, making discovery or any particular achievement that has to do with the development of the nation. But yet we see prizes being given to things that suggest mediocrity and rewarding immorality. It is quite unfortunate.
We have missed it with this kind of programme— Ustaz Ahmad
When Saturday Vanguard asked an Islamic religious leader, Ustaz Sulaiman Ahmad who is the Proprietor of Marcaz, Dharus-Salam Arabic center, and Chief Imam of the Mosque, Ipoyewa, Adamo in Ikorodu, Lagos state to comment on the reality TV show, he requested for a few days to watch the show to enable him make a credible comment.
After 24 hours, he called back and yelled: "Is this the show that rewards winner with N43million? What kind of society is this? Is this how we bring up the youths to take up leadership positions in the future? Then we have missed it completely. We neglect those who excel in academics and honour those who engage in immorality, or what is the basis for this show? In Islam, one of the commandments of Allah which every Muslim must take into cognizance in anything we do is to guide our private parts as contained in Quran 24 verse 30 which says "tell the believing men to lower their gaze (from looking at forbidden things), and protect their private parts (from illegal sexual acts).
"In another chapter of the Quran it states: "And do not approach unlawful sexual intercourse. Indeed, it is even an immorality and is evil as a way. (Q17:32)
"Muslims are forbidden to approach the actions that may lead to immorality, including this kind of arrangement. Please, let them know that mixing up of men and women in seclusion is in the first place, forbidden. It encourages immorality and that is evil. Evil acts deter progress in any society. Islam not only forbids unlawful sexual intercourse, it also forbids all the means that might lead to it, such as this arrangement," he stated.
Govt should clampdown on the programme— Hon. Oluyinka Ogundimu
In his own reaction, Hon. Oluyinka Ogundimu, a lawmaker representing Agege 11 in the Lagos State House of Assembly called on the government to clampdown on the programme, saying it was not impacting any positive value on the  lives of Nigerian youths.
According to him, "Something is wrong with our value system and it has affected or it is affecting our future. BB Naija is one of the many ills being shown on television. BBNaija is like every other borrowed culture which was brought to us and has affected our morals negatively. We are all guilty of this problem. Government at all levels have also failed because the government is not ready to help our value system. There is a censor board that is responsible to verify the sanctity of some of those programmes but it has failed.
"Parents have also failed in their responsibilities. They have given unnecessary freedom to their children. I know there are some stations that have restricted such programmes from the public yet, some parents paid for them and allowed their children to watch those stations. The parents should ensure that they imbibe good morals into the lives of the younger generation.
"The society has become an exhibition of foreign ideas, culture, music, dance and altogether, we have brought evil upon our nation and the younger generation.