By Dayo Johnson
Akure — A former Chief of Defence Staff, Gen Alani Akinrinade (retd) yesterday urged governors in the southern states to stand up against the rampaging herdsmen before the nation descends further into anarchy.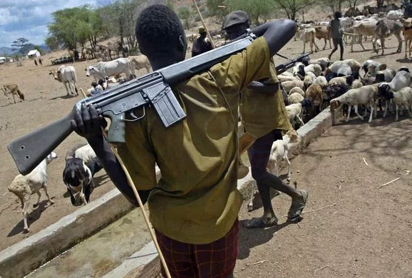 He also expressed reservation about the nonchalant attitude of President Muhammadu Buhari to the killings by the herders across the country.
Akinrinade said this at the first year anniversary lecture organised to mark the Governor Rotimi Akeredolu's administration in Akure, Ondo State.
While he backed the creation of state police to tackle the threat posed by the herdsmen he lampooned the Independent National Electoral Commission, INEC, for registering "hoards of toddlers for elections in the Northern part of the country."
The lecture, titled: 'Rethinking the Nigerian Nationhood: Issues and Challenges,' was delivered by a renowned professor of International Law, Prof. Akin Oyedele.
Akinrinade, who chaired the event, lamented that "herdsmen have been on the rampage for several months now, killing, maiming, raping, burning and kidnapping; name it, all the hallmark of those who never exited the animal farm."
Berating the president over his nonchalant attitude to herdsmen activities, the former Chief of Defence Staff said: "It was recently when our president was called out as the patron of his kinsmen, the herdsmen, that letters of complaints and its denials between the federal executive, the police and governors in distress started circulating that he gave a feeble, unclear, half hearted order to stop the carnage."
In addition, he said: "Let us allow history to deliver its verdict after many more have died, but I am certainly tired and ashamed of being classified as a barbarian. May I appeal to the governors in the southern states to stand up strongly together before more of what happened to Chief Olu Falae happens and we descend further into anarchy."
Lamenting the current state of the country, Akinrinade said "the past two or so years in our country appears to be like a tragic thriller movie in slow motion, full of object cruelty of the highest order of barbarity, edged on by those elected or selected to give us governance."
The guest lecturer, Prof Oyebode said that the nation is at a crossroad as "the multifarious ethnic nationalities, culture areas and linguistic groups hitch together by British imperialism are almost totally dissatisfied, if not actually disillusioned by the arrangement foisted on them."