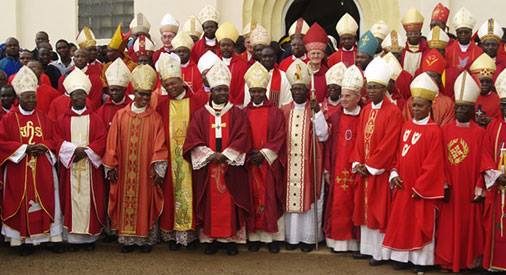 Catholic bishops
Rev. Fr Stanley Aroh, Parish Priest of St. Rita Catholic Church, Mararaba, Nasarawa state, has called on Christians to be discreet when carrying out their Lenten services of fasting and alms giving.
Aroh, who made the call during a Mass to celebrate the Ash Wednesday in Mararaba, Nasarawa state, urged Christians not to look gloomy because they are fasting.
He said Christians were not supposed to announce to the world when giving alms, adding; 'you don't need to blow your trumpet.'
Aro quoted from the Bible to buttress his claim on alms giving, saying: "the left hand should not know what the right hand is doing.
"In this season of lent, I want you to anoint your head with oil and look very fine and refreshed while fasting.
"Many people usually look very sad and dull when fasting and that is not good at all, you don't have to let the whole world know you are fasting.
"When giving alms to the needy, as part of our duty in this season, you should not announce what you have done because our heavenly Father who sees in secret will reward you in the open.
"So for us not to miss our blessings, we have to carry out our Lenten duties secretly," the Rev. Father said.
According to him, aside from food, Christians can also abstain from activities or things they derive pleasure from, like drinking of alcohol, clubbing, smoking, excessive talking among others.
He added that there was need for Christians to be sober and reflect on the sufferings of Jesus Christ for our salvation and that these social activities were distractions to achieving a solemn Lenten season.
The Parish Priest also tasked Christians on forgiving spirit, urging them to learn to forgive easily in this Lenten period and beyond.
He said that any good habit imbibed in this season of Lenten should not stop after the Lent to enable Christians build pious life and be candidates of heaven.
Aroh advised Christians to celebrate the Saint Valentine Day that coincided with Lenten with caution.
He reminded Christians to abstain from eating meat on Ash Wednesday, adding that Valentine should be celebrated in low key.
NAN