By Emmanuel Aziken, Clifford Ndujihe, Dapo Akinrefon, Charles Kumolu, Simon Ebegbulem & Emman Ovuakporie
LAGOS—Outrage overflowed from leading Southern leaders yesterday over comments attributed to Prof. Ango Abdullahi, the spokesman of the Northern Elders Forum, NEF, accusing them of a plot to divide the north and also, among others, justifying the rampage of herdsmen in the south.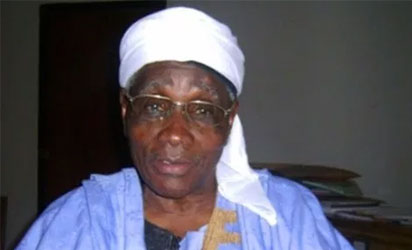 In an exclusive interview with Sunday Vanguard, Prof. Abdullahi, a former vice-chancellor had said the kidnap of former Secretary to the Government of the Federation, SGF, Chief Olu Falae was nothing extra-ordinary, even as he accused Southern leaders of a covert plot to split the unity of the north.
Among Southern leaders, who reacted yesterday, were South-South leader, Senator Edwin Clark; Afenifere, former Senate Chief Whip, Senator Roland Owie; former Lagos State deputy governor, Kofoworola Bucknor-Akerele; National Chairman of the United Progressive Party, UPP, Chief Chekwas Okorie; former Ohaneze Secretary-General, Chief Nduka Eya and Mr. Akin Oshuntokun, a chieftain of the Collation for Nigeria Movement, CNM.
He wants to break Nigeria, he's arrogant — ClarkReacting to Abdullahi's assertions yesterday, Clark in an interview said:  "Prof. Ango Abdullahi has been very irresponsible, disrespectful to the people of the south and does not behave like a patriotic Nigerian. "He does not even behave like a former vice-chancellor who produced graduates," Clark said.
"I told him at Maitama Sule's book launch that Maitama Sule is gone and nobody will restrain him from making his provocative statements and that is what he has done, and now he has a field day.
"Prof. Abdullahi is not the type who will unite Nigeria; he has been talking of breaking Nigeria into two.
"We have 19 states in the North and 17 states in the South, and we have not made any attempt to divide them; it is people like Ango Abdullahi who will discriminate against them when it suits them.
"When it suits them, some northerners are Christians; some northerners are Muslims; when it suits them, they are all together. So, they should re-examine themselves especially when they are appointing men into top positions.
"We all believe in the unity of this country, and that every Nigerian should be equal to the other, no one should be superior to the other. If we want a Nigeria, we must all be equal in that Nigeria.
"So, Ango Abdullahi is arrogant, unpatriotic and a very irresponsible Nigerian. He believes that he is superior to other people, what makes him think so? Ango Abdullahi should realise that the people of the south want a united Nigeria," Chief Clark affirmed.
His remarks unfortunate —Afenifere
Describing Abdullahi's comments as unfortunate, the pan-Yoruba socio-political organisation, Afenifere said elders of his nature should not speak as such. Afenifere's National Publicity, Mr. Yinka Odumakin said: "I read the interview and it is quite unfortunate that an elder statesman, a former Vice-Chancellor will make such utterances and also justifying the killing of Nigerians by herdsmen. He is supposed to be the spokesman of the Northern Elders Forum. Elders do not make these kinds of utterances."
Senator Owie on his part described the elder statesman as a great disappointment to those whose relations had been killed by herdsmen.
According to Owie, "for him to make the statement he made, elevating herdsmen above other human beings, I think that he has to seek urgent medical attention because he could not have said what he said under normal condition.
"How can Southern leaders be accused of splitting the North? Is he saying that the North has always been united? No. Let us not pretend; we know what is the makeup of the North. Northern Elements Progressive Union , NEPU, led by late Aminu Kano, do you know why GNPP came up under Alhaji Waziri or UMBC under late Tarka or MPP under late Solomon Lar, Owie asked.
Owie who is the South-South leader of the Action Democratic Party (ADP), added:  "In any case, I am expecting the younger generation led by Junaid Mohammed, Buba Galadima, and a host of other younger men from the North to take over from Ango Abdullahi so they can work for a united Nigeria.
"I urge Prof.Abdullahi to retire now so that he will not be insulted by younger men and women. He is a man I respect, he should not become a palace jester in the Nigerian political system.
We can't value cattle more than human beings – Bucknor-Akerele
Reacting to the interview, former Lagos State Deputy Governor, Senator Kofoworola Bucknor-Akerele, described Professor Ango Abdullahi's claims as ridiculous. Wondering how Southern politicians are splitting the North and how the country has been unfair to herdsmen, she urged Abdullahi and other northerners, who share his views to wake up to present realities. Her words:  "That is a ridiculous comment. I don't know how southern politicians are splitting the North. Are we splitting the Arewa Consultative Forum? He is ridiculous for making that statement.
"Many people from the North, who share Ango Abdullahi's views should be realistic about Nigeria of today. We are in the 21st century not in the ages of hunters and gatherers. They must try and move with the times instead of dragging us back. How can we be in a country where people value cows more than human beings?"
Abdullahi is one of  Nigeria's problems – Chekwas Okorie
Also speaking, National Chairman of the United Progressive Party, UPP, Chief Chekwas Okorie, described Professor Ango Abdullahi's comments as destructive and inciting.
He said:  "This man is one of the problems because he has always made divisive and inciting statements. We are not saying that he should not support his ethnic group but given his age, exposure, educational attainment and having headed one of the federal universities, one expects him not to be the northern irredentist he has become.
"Nigeria is at cross roads. People like him should be thinking of their grand-children and the kind of country they are leaving for them and not saying things that can lead to violence. Nigerians should stop taking him seriously. He does not deserve the media space he is getting. When former President Olusegun Obasanjo was in power, he opposed Obasanjo but supported late President Musa Yar'Adua.
"He has never been a genuine supporter of restructuring and finding solutions to the problems. He once said that Nigeria could break up so that the North could stand on its own. These kinds of comments are not expected from him given his age. Compare that to the interventions of General Ibrahim Babangida and Alhaji Atiku Abubakar, who are younger. His interview was very destructive and inciting."
He is a master of twisted logic —Osuntokun
Also reacting, a leading member of the CNM, Mr. Akin Osuntokun described Abdullahi as a master of twisted logic.
Osuntokun said: "That is typical of Ango Abdullahi. By now, you know the kind of stuff to expect from him. He is a master of twisted logic, who thrives as a sectional agent provocateur. It is the utterance of people like him that created the poisonous and toxic environment of intra Nigeria disharmony. No southern baiting illogic is too absurd for him to ventilate. The tragedy really is how he has turned out the exact opposite of what a scholar and university administrator should be."
Rep. Sergius Ogun, PDP, Edo in his comment said: "Ango Abdullahi's antecedents point to the fact that he's not matured enough to speak on national issues.
"So we in the South should keep quiet as herdsmen are killing Nigerians all over the country? Honestly, I don't want to really join issues with him.
Ango Abdullahi is part of Nigeria's problems— Eya, ex-Ohaneze Scribe
Also speaking, a former Secretary General of Ohaneze, Chief Nduka Eya, said: "Ango Abdullahi is part of the problems we have in Nigeria. My friend, Prof B.I.C Ijeomah responded to Ango Abdullahi in a book where he said that they want to hoodwink us into ignoring realities of the truth. Ango Abdullahi is among the educated northerners who don't want us to say the truth. When the North East Development Commission Bill was passed, he said nothing but objected to the South East Development Commission Bill. What Ango Abdullahi exhibited is characteristic of those who want to run this country on their terms with arrogance.  How can the solidarity for Benue people be described as divisive?  Who even made Benue Northern Nigeria? "