Coach Abdu Maikaba of Akwa United Football Club of Uyo said his players were disoriented psychologically following the 11thminute goal scored by the visiting Hawks FC of Banjul on Sunday.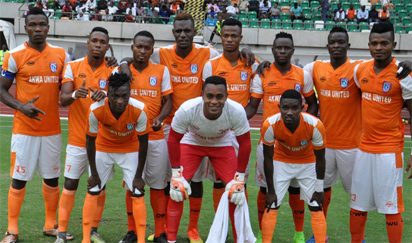 Maikaba, while fielding questions from sports journalists during a post-match briefing, lamented that his boys were put under pressure even though he presented the best of his team.
The Uyo-based team lost 1-2 to the visiting team in the preliminary round of the 2018 Confederation Cup at the Akpabio International Stadium.
The coach said he was not surprised because of his knowledge of the kind of football played in Gambia.
"I treated them with respect. I know that they are a very good side, they play compact football, and they are always behind the ball.
"They are a highly tactical side, and we have learnt a very big lesson. We have to be mentally strong to meet them in the return leg in the Gambia," Maikaba said.
The coach expressed optimism that his team can win in the away match in Gambia, promising to work hard to qualify in the CAF campaign.
Speaking in the same vein, the Akwa United FC captain, Ariwachukwu Emmanuel, said his team lost to the Hawks FC of Banjul gallantly.
Emmanuel said that the visiting team was very fortunate to beat his team at its home in Uyo.
"Football is luck. We had this hard luck today. I believe in fate, we can still win the away match in Gambia," Emmanuel said.
His counterpart from Hawks FC of Banjul, Omar Sarr, attributed his team's victory over Akwa United FC to luck.
Sarr, however said that though they were happy beating Akwa United FC at home, the competition was not yet over.
The Hawks FC coach, Ansumana Fatty, represented by the team manager, Kebba Njie, described Akwa United FC as a great team.
The coach said the host team had created a lot of chances but could not score because Hawks FC had a very good goalkeeper.
He said his team goalkeeper, Yankuba Colley, was the man of the match, having saved several shots from the host team.
"The game is not yet over. We will work hard and improve on our team when we get home.
"We've already taken the tie's advantage. We will have home advantage, but winning just away doesn't mean it is over. Akwa United FC is a tactical team.
"We will work harder and train well to get to the next stage," Fatty said.
He thanked the host team Akwa United FC of Uyo for their hospitality towards his team and the officials.