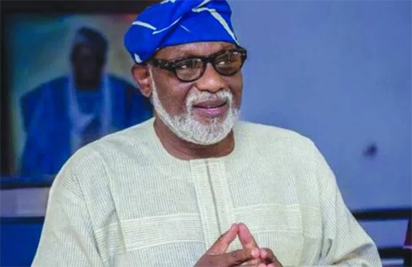 Ondo State governor, Rotimi Akeredolu
Gov. Oluwarotimi Akeredolu of Ondo State on Tuesday signed the N181. 42 billion 2018 appropriation bill into law.
Ondo State governor, Rotimi Akeredolu
In his speech while signing the bill in Akure, Akeredolu that his administration would concentrate more on capital projects to bridge the huge infrastructure deficit in the state.
He lamented the huge concentration of previous budgets on recurrent expenditure, adding that it was worrisome considering the low level of development in the state.
Akeredolu assured that the budget would advance the course of development in the state and ensure that governance was spread to majority of the people not employed by government.
Fourty-six percent of the budget which is N80.92 billion was for capital expenditure while N78.588 billion, representing 43.3 per cent was set aside for recurrent expenditure.
The budget was increased from N171.23 billion to N181.42 billion by the state House of Assembly.
According to the governor, debt service will take N13.6 billion which is 7.5 per cent while statutory transfers to Ondo State Oil Producing Area Development Commission and Local Governments is N8.30 billion, representing 4.6 per cent.
"The sum of N78.58 billion which represents 43.3 per cent is set aside for recurrent expenditure.
"Put simply, this amount will be expended on salaries, allowances and grants. This is still very much on the high side considering the state of our development," he said.
Akeredolu, who also signed the Contributory Health Insurance Scheme Bill into law, said the bill would allow every resident access to good health care services.
He said the law would ensure that all residents of Ondo State have financial protection and physical access to quality and affordable health care services
"It will also protect families from the financial hardship posed by huge medical bills, regulate the rise in the cost of health care services.
"It will ensure that the poor and vulnerable shall be guaranteed the basic minimum package as defined under the National Health Act," the governor said.
Akeredolu said the law ensured equitable distribution of health care costs across different income groups and maintain high standard of health care delivery services within the health sector.
According to him, the law had made provisions for efficiency in health care service delivery and would encourage private sector participation in the provision of health care services among others.
Similarly, the governor has also signed the Ondo State Social Protection bill into law, to promote the well-being of the people.
Earlier, the Speaker of the assembly, Mr Bamidele Oleyelogun, advised citizens of the state to see government property as theirs, and praised the assembly Committee on Appropriation for working as a team which ensured speedy passage of the bill. (NAN)