AKURE—Governor Rotimi Akeredolu of Ondo State has reignited the conflict within the All Progressives Congress, APC,  saying he does not recognise Ajayi Boroffice as the senator representing Ondo North senatorial district in the Senate.
He said he only recognised two senators, Yele Omogunwa (Ondo South) and Tayo Alasoadura (Ondo Central) as senators representing the state.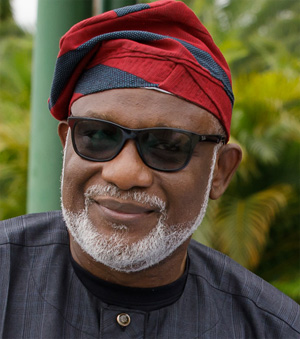 The three senators from Ondo are members of the APC.
Akeredolu spoke in Akure, the state capital, during the unification rally marking his first year anniversary as governor of the state.
"l only know of two senators of APC in this state, Senator Tayo Alasoadura and Senator Yele Omogunwa, the third one, l don't know," he said, while fielding questions from journalists at the rally.
The governor also endorsed the acting chairman of the party in the state, Ade Adetimehin, whose placement is being challenged by suspended chairman, Isaac Kekemeke.
He said Mr. Adetimehin was the "authentic" chairman of the party in the state, while others are "counterfeit."
The governor and Mr. Boroffice have had subtle antagonism since the September 2016 primaries which produced the former as the candidate of the APC for the governorship election.
Messrs. Boroffice and Kekemeke said to be loyalists of the national leader of the party, Bola Tinubu, were said to have opposed the emergence of Akeredolu as the party's candidate, for the last governorship election.
The issue between them is expected to form part of Tinubu's reconciliation efforts in Ondo State.