……as group alleges plot to destablise Nigeria
By Ikechukwu Nnochiri
ABUJA – The National Human Rights Commission, NHRC, on Monday, called for restructuring of the security architecture of the country, saying there was need to put measures in place to stop the violation of the right to education and dignity of school girls in the North East.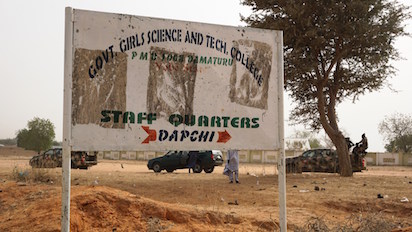 The Acting Executive Secretary of the Commission, Mr. Tony Ojukwu, via a statement he issued in Abuja, said the call was in reaction to confirmation by the Federal Government that 110 out of the total of 906 students in Government Science and Technical College in Dapchi, Yobe state were unacounted for, after the school was allegedly attacked by Boko Haram insurgents on February 19, 2018.
Ojukwu who also Heads the NHRC Human Rights/Humanitarian Assessment Team in the North East, condemned what happened in Dapchi as "inhuman and degrading treatment which inflicts both physical and psychological torture on the innocent school girls and an affront on their fundamental rights and freedoms ".
"The Acting Chief Executive Officer of the Commission therefore calls on security agencies to restructure the security architecture of the country and take adequate measures to protect all educational institutions in the country against any further attacks.
"The Commission commiserates with the government and families of the victims of the Dapchi incident and urged that immediate steps must be taken to rescue the missing girls and prosecute the abductors", read the statement which was signed by the Head of Media Relations at the NHRC, Mrs. Fatimah Agwai Mohammad.
Meanwhile, a coalition of 50 civil society groups have accused Amnesty International of re-enacting an old script it said was targeted at destabilising Nigeria.
The Coalition flayed the timing of recent reports that were released by Amnesty International, saying it was capable of not only emboldening terrorist elements in the country, but also targeted at weakening the Nigerian military.
It will be recalled that Amnesty International had in its report, accused the Nigerian military of engaging in gross abuse of human rights in its anti-terror war.
However, the Coalition expressed worry over what it described as sudden resurgence of the report at a time it said the Nigerian military was winning the war against Boko Haram terrorists.
Addressing journalists in Abuja, the National Co-ordinator of the group, Mrs Jaiyeola Mohammed said: "How does Amnesty International want terrorism to be fought? Why should the mode of fighting terror be different for Nigeria while other countries 'western coalition' get carte blanch to annihilate sociopaths and keep their own countries?
"We are not ignorant of countries that cross oceans, beyond many international boundaries to extrajudicially execute suspected terrorists while killing school children, hospital patients, wedding parties and other innocent civilians that are accepted as 'unavoidable casualties'.
"The racist position of Amnesty International is that countries have more rights than each other when it comes to protecting their nationals", she added.