By Evelyn Usman & Kingsley Omonobi
Eight suspected members of a robbery gang terrorising Apo and Mabushi areas of Abuja have been arrested, with two vehicles that were stolen from the home of a Nigerian National Petroleum Corporation, NNPC, staff, recovered.
Among the suspects were two alleged receivers of stolen vehicles taken outside the country for sale.
During the robbery operation at the residence of the NNPC staff, Mr. Nasir Yusuf, on January 22, two vehicles as well as other expensive valuables and gadgets were carted away.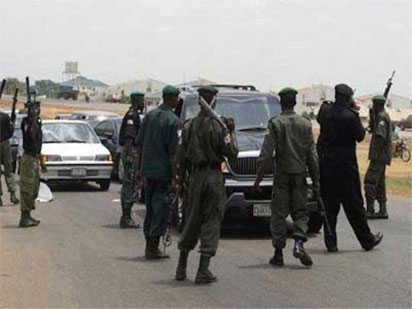 The arrest of the suspects, as gathered, followed a directive by the Inspector General of Police, Ibrahim Idris, to the Commander, Intelligence Response Squad, Abba Kyari, an Assistant Commissioner, to bring perpetrators of the incessant attacks in the areas to book.
Those arrested are Felix Iheanacho, Emmanuel Manase, Daniel Talumun, Ibrahim Musa, Tayo Oyemaki, Promise Reuben, Danjuma Mustapha and Mustapha Labaran.
During interrogation, Iheanacho, 37, confessed to be leader of the gang.
He also revealed that the gang had carried out several robbery operations in the Federal Capital Territory.
On their part, Mustapha and Labaran stated that they never went on operation with the gang. Rather, they stated that they only receive cars from the gang.
Police sources hinted that "preliminary investigation revealed that Danjuma Mustapha, 29, is a notorious stolen car receiver in Abuja and trans-border stolen car dealer, while Mustapha Labaran, 42, who is based in Katsina State, specialised in conveying stolen cars from Nigeria to Niger Republic.
"They do this in order to avoid the difficulties criminals are now facing in re-registering stolen cars in Nigeria, because the nationwide networking of our Car Registration System is working as it is difficult to register same car twice."