By Simon Ebegbulem
BENIN—Edo State Commissioner of Police, Mr. Babatunde Kokumo, has disclosed that five policemen have been arrested over the death of a commercial bus driver in Benin on Tuesday.
The policemen were alleged to have pushed the bus driver into the path of the trailer that crushed him to death.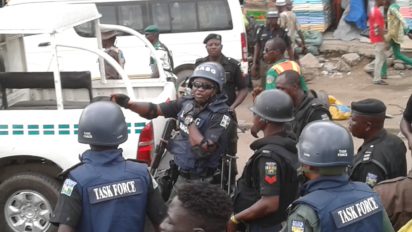 Although Kokumo did not confirm the number of arrested policemen, Vanguard gathered that five are currently in detention in connection with the matter.
The death of the driver identified as John sparked protests in some parts of Benin, which led to the burning of five Police Hilux vans and killing of three other persons.
However, the identities of the policemen, who were said to be in Police cell, are yet to be known.
But Kokumo said members of the team are currently being investigated and if found culpable, will be made to face the full wrath of the law.
He said the command will not renege on its fight against all forms of human rights abuses.
He advised parents, guardians and community leaders to prevail on their children not to take the law into their hands and to allow Police investigations into the matter.
According to the Police, "the violence by an irate mob and some restive youths as a result of the fatal motor accident allegedly caused by a Police patrol team in the early hours of February 6 has been brought under control.
"Members of the alleged Police team have been identified, arrested and currently being investigated."