By Dirisu Yakubu
ABUJA—A coalition of support groups under the aegis of Forum of Non-Governmental Organisations in Nigeria (FONGON) yesterday held a solidarity rally in support of the President Muhammadu Buhari administration (PMB) in Abuja, the nation's capital. They also asked him to take advantage of his constitutional right to seek a fresh mandate at the expiration of his first tenure in 2019.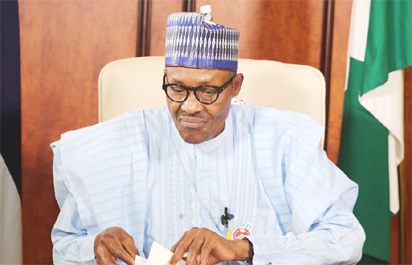 The event, which held at the popular Unity Fountain attracted multitude of people made up of youths dressed in T-shirts and face caps bearing the inscription, "Vote Muhammadu Buhari let the good works continue beyond 2019."
Although, President Buhari is yet to make a public declaration of interest in the 2019 Presidential election, the supporters who thronged the fountain danced excitedly to the musical rendition, asking the President to throw his hat in the ring without further delay.
"Nigeria, Sai Baba," they sang as they held various placards in support of the President with sundry messages such as "N24.7 billion saved monthly through the Treasury Single Account (TSA)-the PMB era, Yoruba Youth Movement wants PMB beyond 2019, South-East Solidarity Forum declares support for PMB, Goats are no longer eating our yams" amongst others.
In a letter addressed to President Buhari, national coordinator of the forum, Wole Badmus said the group was out to change the narratives by those bent on destroying the nation, insisting that much has been achieved since the assumption of office by the incumbent administration.
"We are a Coalition of 200 Non-Governmental Organizations (NGOs) with a total membership of 3 million members spread across the length and breadth of our dear country, Nigeria. We have decided to come together under the umbrella of FONGON to serve as a counter-voice to the naysayers and the looters who are increasingly dominating the polity.