Emmanuel Zira, the Chairman of Adamawa United Football Club, on Monday said Morocco's success at the just-ended African Nations Championship (CHAN) was an indication of its domestic league's superiority in Africa.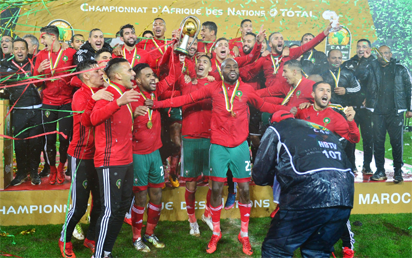 Zira said in Abuja that the North African country's team "exhibited beautiful football, great mobility and tactics'' to help it win the competition.
He said the 4-0 thrashing of the Super Eagles of Nigeria by the Atlas Lions at the Complexe Mohamed V Stadium in Casablanca on Sunday in the final match was expected.
"We keep saying that our league is one of the best, but I do not think so.
"If you want to judge the quality of our league, find out how many times we have passed the first round of the CAF Champions League or other continental event.
"My own judgment of the league is not based on the field of play but organisation,'' Zira said.
He pointed out that there was now the urgent need to privatise Nigerian football.
"If you remove all the government clubs from the Nigerian league, what then are we left with? Go to countries like Egypt, South Africa and Morocco and one will be astonished by the number of clubs which belong to government.
"But in Nigeria if government backs off from those clubs, the Nigerian league is dead. So, there is an urgent need to privatise Nigerian football.
"Aside Brazil, I do not think any other country has as much talents as we do. So, we have to get things done properly,'' the club chairman said.
The Atlas Lions on Sunday became the first team to host and win the competition, which was in its fifth edition.
The Super Eagles also reached the competition's final match for the first time.(NAN)