By Jacob Ajom
There is no doubting the fact that Wilson Oruma, one of Nigeria's most talented football stars is by every means, a successful professional. He shot to limelight after the Japan '93 FIFA U-17 World Cup, which he captained Nigeria to win. After then, the Delta State-born soccer exponent left the shores of this country and traversed the length and breadth of Europe plying his trade. Oruma made plenty of money, saved a lot and returned home a comfortable man.
It was supposed to be a quiet retirement life for Oruma, but that was not to be as he fell into the wrong hands, purportedly in a 'house of God' after being introduced to fake oil moguls by a supposed 'man of God'.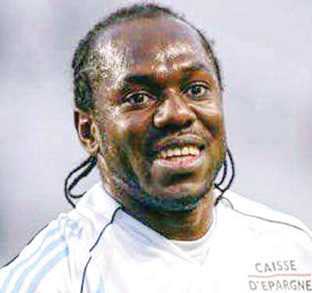 According to reports, Oruma suspected foul play when scheduled meetings would not be respected and he was cut off as he could no longer communicate with the 'investors'. When he met the pastor, the 'man of God' asked if he was involved in the business dealings all the while and the answer was a capital no. He thus divorced himself from any blames leaving the soccer star to lick his wounds. Oruma was not strong enough to withstand the attendant psychological pressure. A few weeks after, he started behaving funny. He started talking to himself and had hot altercations with his wife at their Victoria Garden City home in Lagos.
The former Bendel Insurance star lost close to N1.3b to the fraudsters. Today, nearly three years after, Oruma is in a rehabilitation home, battling with insanity. How cruel?
The Wilson Oruma story began like those of many other children born in Warri, some 41 years ago. Like most of his peers, little Wilson grew up the hard way. Known as Wilson 'Owoyo' Oruma, around the neighbourhood, where the family residence is located off Ogbemudia Street, along the Warri/Sapele Road, Warri, he was obsessed with football at a very early age.
A close family source, who craved anonymity said Oruma's attachment to football was commensurate to the enormous skill the little tot was endowed with. "He was so talented that his numerous friends around the dusty playgrounds across Warri used to call him Maradona," ostensibly, after the iconic soccer star, Diego Amanda Maradona. Among his contemporaries, he was like a golden fish that could not be hidden.
The boy grew so popular that it got the father angry. "One day, the father locked him up inside their apartment because he did not want the boy to go outside and play football," our source said. But that action did not go down well with Wilson's friends at Invincible Leopards Football Club, which was his first play group formation. The fans invaded the family house and freed their star player, an operation they carried out successfully.
"Despite this apparent show of disapproval to Wilson's undying attachment to the game by his father, Wilson's mother showed him love and encouragement, and this emboldened him to forge ahead," our source said. And not long afterwards, Wilson was soon spotted by one of Nigeria's earliest football talent hunters, Elder Eddington Kuejubola who then owned an all boys grassroots club, Tabuno Babes Football Club and a topflight women soccer outfit Ufoma Babes. Little Wilson, barely 14 was enlisted as a player of Tabuno Babes. "He was brief at Tabuno Babes as he was soon snapped up by scouts from Bendel Insurance FC of Benin," our source added.
At Insurance, Oruma did not have to stay long either as prior to the 1993 FIFA U-17 World Cup in Japan, Coach Fanny Amun, then head coach of the Golden Eaglets extended an invitation to him. Impressed by the talent and skill exhibited by Oruma during the open camp, Amun offered him a lifetime opportunity to feature in Nigeria's squad for that year's U-17 World Cup.
In Japan, Oruma shone like a million stars and distinguished himself in a class of Eaglets that included stars like Nwankwo Kanu, Celestine and Emmanuel Babayaro, Ibrahim Babangida, Mobi Okparaku, Karibe Ojigwe, Charles Okonedo among others. Oruma did not only lead Nigeria to win the trophy, he also emerged the highest goalscorer with 6 goals and won the golden boot.
"His father celebrated his son's feat days and weeks on end," our source recalled. It was his exceptional showing at the cadet tournament that convinced French Lique 1 club, RC Lens to snap him up in 1994. He was loaned to Nancy. A season after, he returned to Lens and played seven matches during their 1997–98 Ligue 1 title campaign. After representing Nigeria at the 1998 FIFA World Cup, he moved to Turkish side Samsunspor, returning to France 
one year later
 to play for Nîmes.
In 2000, Oruma moved to Swiss side Servette, played two season before returning to France again, where he played until 2009 for Sochaux, Marseille and Guingamp, winning the 2003–04 Coupe de la Ligue with Sochaux and the 2008–09 Coupe de France with Guingamp, despite them being a Ligue 2 club at the time.
He retired from professional football in 2010 after a season with Greek club AO Kavala.
Oruma's trauma has attracted the sympathy of the Nigeria Football Federation. Earlythis week, President of the NFF, Amaju Pinnick announced that the football house would write off Oruma's medical bill and offer him a job with one of the national teams when he returns to norlmal. Indeed, Pinnick also offered to relocate the former international to his personal house in Lagos. He will stay there until his new 3-bedroom apartment acquired for him by the football house is ready.
Oruma's former colleagues also reacted to the sad development. Although the initial plan to organise a football match to raise funds towards his medical need has been shelved, initiator of the match, Waidi Akanni said ex-internationals were still working hard to ensure younger players who are still active do not fall victim to fraudsters when they want to invest their money into worthy causes.
"There a number of cases similar to Oruma's that are not known to the public. We must prevent further occurences," Akanni said, pointing out that retiring players have to be assisted by his type, who are experienced. "They must undergo orientation and get well prepared for life after football. Before they invest they should check and double check and seek advise from industry experts before they put in their money."
Akanni also expressed appreciation to the leadership of the Nigeria Football Federation for intervening in the Oruma case. "We want to appreciate the efforts of the NFF and want to seize this opportunity to call on the NFF President to extend that gesture to other ex-players who are also indigent and need help."