By Vincent Ujumadu
Awka- THE Indigenous People of Biafra, IPOB,  has denied having a hand in the incident in Enugu in which some women allegedly booed the president general of Ohaneze Ndigbo, Dr Nnia Nwodo while he was making a speech.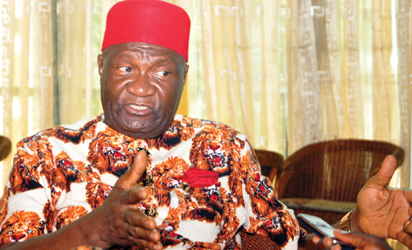 The incident allegedly took place during the gathering in Enugu tagged, 'Handshake across the Niger.'
IPOB alleged that the chant by the women started immediately Nwodo stated during his speech that what Igbo wanted was restructuring and not secession.
In a statement Sunday, IPOB said the women who opposed Nwodo's call for Nigeria's restructuring, rather than attainment of Biafra, merely expressed their position, adding that they were not sponsored by IPOB.
Media and publicity secretary of IPOB, Comrade Emma Powerful, who signed the statement said the organization would have done a better job if it chose to by mobilizing a larger crowd to Enugu if it was interested.
The statement read: "We have pedigree, culture and proud tradition of announcing our activities ahead of time and also accepting responsibility for all our actions."
"While we respect the event and the presence of our brothers and sisters from the great Yoruba nation, we venture to state that the humiliation of Nwodo in Enugu on Thursday was most probably a spontaneous reaction by ordinary people of our land who find it quite amusing that they think the agitation for Biafra restoration has been crushed.
"The inescapable truth is that our people are solidly behind our great leader Mazi Nnamdi Kanu and his quest for Biafra.
"Had IPOB mobilized our women to storm Enugu, the entire metropolis would not have contained our angry mothers".