By Emma Amaize, Sam Oyandongha & Chancel Sunday
BOMADI— HUNDREDS of villagers, yesterday, fled Ndoro community, Ekeremor Local Government Area, Bayelsa State, following the massive deployment of soldiers and military hardware in the area over the alleged killing of an undisclosed number of soldiers by a notorious militant leader and kidnapper, Kareowei.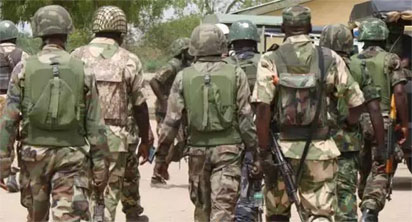 It was gathered that the community, one of the biggest settlements in the western axis of Ijaw nation, has been deserted despite appeal by Bayelsa State Government to residents to remain calm.
Vanguard learned that Kareowei and his gang had earlier killed a soldier, which prompted a search for him and his group by the Joint Task Force, JTF, but latest report has it that the group gunned down more soldiers, which has compounded the situation.
A community leader at Ndoro, who spoke on phone with Vanguard, said the area was tense as a result of military build-up, adding, "As I am talking to you now, another battalion is being deployed and they are on their way to our town to battle the boys in their stronghold."
A source said that many houses had been destroyed, adding: "Ijaw boys working with the soldiers point to houses and the houses were burnt immediately. No fewer than  50 houses have been burnt.
"Right now, many persons are displaced, having nowhere to stay, no money to feed and nowhere to sleep. Also, there is serious looting. Once the military leaves a point, criminals loot the area."
The Joint Task Force, JTF, Commander, Bomadi Division, Capt Jimoh Abdul, who also spoke on phone to one of our reporters, said:   "I am not in position to speak with you now. You can call 222 Battalion headquarters.
"I am in a very difficult terrain right now. So, you can call any of the Task Force units to get details. I do not have the authority to speak on anything right now. I do not have enough credit on my phone to text you any phone number because I am in a difficult terrain."
The latest crisis, a source told Vanguard, started when a militant leader, identified as Karowei, was allegedly contacted by some persons in a ploy to get him.
The source added that the military had arrested three militants and were on the trail of others while gunboats had blocked the escape routes in the tricky creeks.
"They arrived the town together with a military intelligence officer. They came with an alibi that there is somewhere money is stashed and they needed him to get the money and split it with them as a deal.
"In the middle of that discussion, the boy was called on the phone by an unknown person that the meeting was a set up to get him killed and that every conversation was being recorded. This got him angry and he took the military intelligence officer and the other person to his camp. He returned the next morning to the community with the head of the military officer."