Abuja – Federal Government has concluded arrangements to meet the Feb. 20 deadline for payment of 494 million dollars meant for procurement of 12 A-29 Super Tucano Light-attack aircraft from U.S., Minister of Defence, Mansur Dan-Ali, said.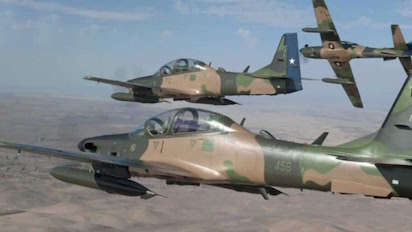 The minister made this known while briefing State House correspondents after the meeting of National Security Council, presided over by President Muhammadu Buhari at the Presidential Villa, Abuja, on Thursday.
According to him. the procurement agreement includes the aircraft, weapons, spare parts and facilities to support training and continuous servicing.
He, however, said Federal Government was looking into some of the stringent conditions attached to the procurement by the U.S. State Department.
He added that "one of the stringent measures is that we will start having the aircraft from 2020, which is two years from now.
"The U.S. State Department is also thinking of not allowing Nigerian technicians to be part of the production inspection.
"But this is what we normally do in defence contracts: we send our personnel to go and understudy, especially when it comes to specialised contracts. In Russia, our personnel are permanently based where the production is being done for this MI35 helicopters."
The minister said he informed the National Security Council that in line with the decision of the present government to increase the strength of the Armed Forces to address manpower problem, the three services had in the last two years enlisted and recruited qualified Nigerians.
He announced that the Ministry of Defence had embarked on providing befitting accommodation for members of the Armed Forces in the six geopolitical zones of the country.
He said Defence Headquarters had also provided accommodation to its personnel, which was
inaugurated in Abuja last month.
"All these would go a long way in solving the accommodation problem and boost the morale of personnel serving in Abuja,'' he added.
Dan-Ali also said that the Military Pension Verification Exercise conducted in the 36 states and
Federal Capital Territory enabled the Military Pension Board to update its data payroll. (NAN)