Registrars frustrating e-dividend mandates — Shareholders
By Peter Egwuatu
BARELY two years after it was  introduced  by the Securities and Exchange Commission, SEC, and Nigerian Stock Exchange, NSE, the implementation of the Direct Cash Settlement (DCS) initiative has been grounded by increasing apathy from stockbrokers and investors.
Meanwhile, shareholders have accused registrars of frustrating the electronic dividend (e-dividend) registration, by not implementing the e-divided mandate and merging of multiple accounts even after investors have registered for the e-dividend.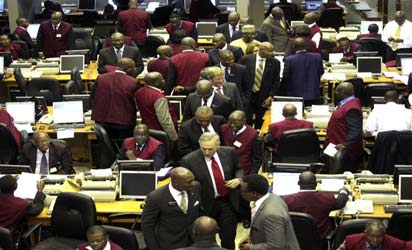 Consequently, they requested that the SEC should allow continuation of the free e-dividend registration exercise, which closed effectively today, and merging of  multiple accounts, claiming that most registrars do not have the capacity in terms of manpower and technology to meet the deadline.
Forces against Direct Cash Settlement
While the e-dividend was introduced to address the increasing trend of unclaimed dividend in the capital market, the DCS was part of the ongoing initiatives introduced by SEC and NSE to protect investors and eliminate fraudulent activities in the Nigerian capital market. It took effect from January 4, 2016. It is the direct payment of proceed of sale of shares/securities into an investor's nominated bank account.
It is a process where cash proceeds from trades executed by stockbrokers on the Exchange settles directly into investors' bank account. It starts when a client gives his broker the mandate to sell his or her shares. Once those shares are sold, payment is made directly into the client's account. This is in contrast to the old practice where proceed from sale of shares securities is paid directly into the stockbroker's account and stockbrokers then deduct transaction fees and remit the balance to the client's account.
Commenting on the 2017 performance of the stock market as it relates to the DCS initiative, Chairman, Progressive Shareholders Association of Nigeria, PSAN, Mr. Boniface Okezie said: "Our stockbrokers are not helping matter on this direct cash settlement. They still prefer the indirect payment settlement. My recent transaction with them showed that they prefer the old system to the new system. They are supposed to inform me to supply my account details to key into the direct cash settlement, but they did not.
"Also, the NSE and SEC need to carry along the entire stakeholders when introducing new measures and products to the market.   There should be proper and enhanced enlightenment on this new initiative if its objectives are to be achieved. The NSE needs to up its game. In most cases, retail investors are ignored and are not involved on issues that affect the market.
In the same vein, National Coordinator, Proactive Shareholders Association of Nigeria, PROSAN, Mr. Oderinde Taiwo, said: "The DCS initiative is good, but most local retail investors are not much aware of it let alone its benefits. The regulators, especially the NSE do not parley and regard us as major stakeholders. We are the ones that sustain the market when it crashed in 2008 because it is our own; we do not have alternative market, but the so called big investors (foreign and institutional) left the market for other markets. So, there is need for enhanced enlightenment by the regulators so that investors will key into this laudable initiative."
Commenting as well, Managing Director, APT Securities & Funds Limited, Mallam Kasimu Kurfi, said; "The Direct Cash Settlement still has a long way to go because most of our local investors want to have cash before or immediately after disposal of their sharers which the system does not allowed.   Only few wait for the Transaction Date plus three working days  (T+3days). There is need for more enlightenment.
On his part, Managing Director/CEO, High Cap Securities Limited, Mr. David Adonri said: "Direct cash settlement  by CSCS for sales made by investors is wonderful development. It is still at its infancy  of implementation but those who are already utilizing it can attest to its numerous benefits. Shareholders are hereby encouraged to enmbrace and key into it without further delay."
In his own remarks, the spokesperson of Independent Shareholders Association of Nigeria, ISAN, Mr. Moses Igbrude said: "Direct cash settlement is a new initiative which all stakeholders need to support and pursue to logical conclusion.
Registrars frustrating e-dividend
Igbrude however noted that there are still problem with the implementation of the e-dividend initiatives, as registrars still post dividend warrants to shareholders even when they have completed the exercise. I think some registrars are having human and technology gaps. When shareholders fill the e-dividend forms instead of posting it immediately they just dump it by the side of their table and later on they forget to affect it in shareholders accounts. So, SEC should carry out proper audit on the e-dividend registration. The exercise should be made to remain open rather than fixing deadline given some of the lapses identified.
In his own comment, former National Publicity Secretary and Co Founder , Nigerian   Shareholders Solidarity Association, NSSA,   Alhaji Gbadebo Olatokunbo, said: "We are happy to note that dematerialisation of share certificate has recorded huge success. The regulators of the market must be commended for the success, but more publicity and time should be given to dematerialisation and direct cash settlement; while the regulators should work more on the registrars, because despite the fact that many shareholders had done the needful in terms of e- dividend registration, surprisingly several dividends were still posted to their residences, instead of their bank accounts. While, explanations from registrars were that most of such cases were from investors who bought shares through the secondary market of the NSE, which required some special-treatments, despite normalisation of the e-dividends mandate.
In her remarks about the e-dividend registration, Chairperson of Pragmatic Shareholders Association of Nigeria, Mrs Bisi Bakare said:" There have been several complaints from some of our shareholders on the e-divide registration. The exercise still have some hiccups as shareholders still get dividend warrants in their addresses both old and new. Even the merging of multiple accounts  has not recorded the expected results. And for me as a person, I had an issue with the merging of my accounts. After complying with the registration processes, my accounts were yet to be merged as my registrar still posts dividend warrant to my old address.   The regulators should take this matter serious with the registrars and deadline for any registration of e-dividend and merging of accounts should be removed; rather there should be  continuous sensitization."
Outlook for 2018
On his outlook for the stock market in 2018, Managing Director, APT Securities & Funds Limited, Mallam Kasimu Kurfi, said:   "Our projection for the year 2018 is still brighter as most of the companies are likely to declare better dividend because of good performance in 2017. Our   stocks are still trading below Earning Per Share, EPS of 5, which means, they are still below the average EPS of 8 to 10 as obtained in the Frontier market making our stocks trade below the fair value. As long as the price of crude oil sustain the price of   $65 per barrel or more , it will boost our foreign   reserves which attracts more foreign investor to participate in our market.   However, election can bring uncertainty which the market may react to it depends on how the politicians handle the matter. The return of the year is going to be positive but not as much as 2017."
On his part, Olatokunbo of the Nigerian  Shareholders Solidarity Association, NSSA expressed concern over spate of delisting from the stock market. He said: "Though, the rule of the market is free entry and exit, but it must not be at expense of shareholders. If after a company have enjoyed all the benefits of quotation for several years and had consolidated its brands and market share within the country; then after a short time  should it be allowed to exit from the market? And if the exit must go through, then it should not be at the disadvantage of its shareholders as most of them give some excuses of sudden bad results and accounts.
The authorities should not entertain a situation where companies are allowed to exit without due diligence on their reports for some years back to date and serious investigation of the reasons for such disengagement, and thus allowing shareholders to be short-changed.
"More companies are expected to be quoted on NSE in 2018 like MTN and others. We need to look into our legislation on quotation at NSE, that since companies enjoy waivers on some obligations in their infancy, then after some years of good progress and profit, companies should get quoted as compensation to the citizens.
"Since, necessary encouragement and support had been given, then the citizen who constitute the market-forces, should also benefit from the profit as shareholders of such companies."
Igbrude of the Independent Shareholders Association of Nigeria, ISAN, expressed also expressed optimism about the performance of the stock market in 2018.
"In 2018, I see hope, better and improved capital market going by third quarter, Q3, 2107 results posted by many companies. I do hope also now that  recession is officially announced to be over,  it will translate to   economic growth and development as well as benefits for the   capital market in   2018."
On his part, Chairman, Progressive Shareholders Association of Nigeria, PSAN, Mr. Boniface Okezie said: "My expectations for the market in 2018 are that regulators of our market should make themselves relevant to government.   They should be involved in policy formulation especially on those issues that affect the financial market. I hope the economy will continue to grow and if that happens, the stock market will grow as well. The stock market does not exist in isolation; it moves in the direction of the economy. So, the federal government should make sure that money is pumped into the economy and if that happens, economic activities will spring up and people will earn income and be able to invest in the market. Government should not just come to the market when it needs to raise money alone, it should be involved in market growth and development."