By Sola Ogundipe
When Helen discovered  she was pregnant, she was excited to welcome a new life, but her hopes took a crashing turn when she had a miscarriage weeks later.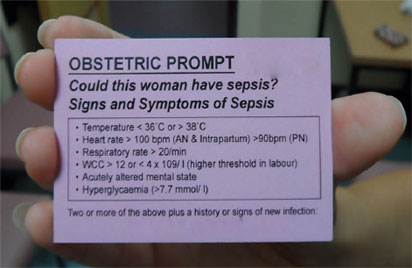 After all the tests, she continued to bleed, and was admitted to the ICU for post partum sepsis along with an infection in her uterus.
"I was really sick and needed to have three  D&Cs done and it took a while for me to overcome the shock of sepsis. I was one of the lucky ones who made it but I'm still losing  weight," she told Good Health Weekly.
Helen's case is typical of several hundreds of thousands. Although the  annual maternal mortality rate  from maternal  infections in Nigeria has dropped over the years, maternal and postpartum sepsis remains quite significant.
In March 2013, the Society of Gynaecology and Obstetrics of Nigeria reported that 17 percent of the 11,600 maternal deaths were recorded in Nigeria were attributable  to infection during pregnancy.
Top 3 killers: As one of the top three leading causes of maternal and neonatal deaths in Nigeria, maternal sepsis is an illness that can develop in some pregnant women as well as women who have recently put to bed.
According to the World Health Organisation, WHO, although  recognised as the third most common direct cause of maternal mortality, maternal sepsis has received less than adequate attention, research and programming.
Undetected or poorly managed maternal infections lead to sepsis, death or disability for the mother and increased likelihood of early neonatal infection and other adverse outcomes.
Good Health Weekly gathered that sepsis can occur because of an infection related to the pregnancy or one that is totally unrelated, such as pneumonia or Urinary Tract Infection, UTI.
Sepsis can also develop as the result of many complications such as miscarriages (spontaneous abortions) or induced abortions.
The WHO says maternal sepsis that develops within six weeks of delivery, is called postpartum sepsis or puerperal sepsis while neonatal sepsis is sepsis in new born babies.
But while health experts recognise that maternal and postnatal sepsis are  leading causes of maternal deaths,  strategic approaches in  past years have mainly focused on clinical interventions and health system strengthening. Worse still, greater  attention has been on other leading direct maternal death causes such as postpartum haemorrhage and hypertensive disorders.
Risk: According to an experienced medical practitioner, Dr Olawoyin Imoisili, infections are a risk after any miscarriage or abortion.
Imoisili who is an Assistant Director and Reproductive Health Focal Person in the Lagos State Health Service Commission, told Good Health Weekly that non-sterile abortions including those that may be done outside of a healthcare facility, are a particular risk.
"Sepsis is a life threatening condition in which the body is fighting a severe infection that has spread through the blood stream. Any woman who is pregnant, has miscarried or aborted, or who has delivered a child is at risk of developing maternal or postpartum sepsis.
"However,  women with diabetes, and those that undergo invasive procedures such as IVF to help them get pregnant are at higher risk."
Imoisili who trained in  Russia and the United Kingdom is key to the Lagos State  Maternal, Newborn Health (MNH) programmes  remarked that maternal sepsis is a severe bacterial infection usually of the womb.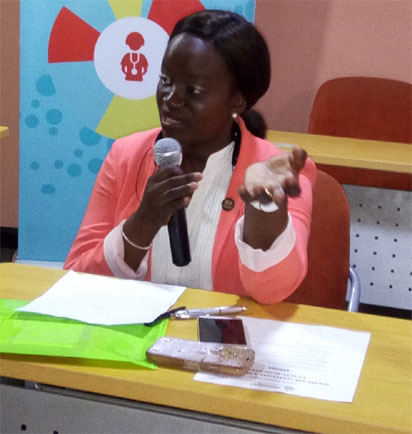 "During pregnancy, the body changes, so a woman who just delivered is under pressure. Women who have had a spontaneous or elective abortion particularly when the foetus is already taking shape, should watch for signs and symptoms of an infection.
Symptoms: These include (lasting or increasing pain, discolored or odorous (smelly) discharge, abdominal tenderness, high temperature, fatigue, feeling unwell).
She said sepsis can develop after major abdominal surgeries such as Cesarean Sections, prolonged or obstructed labour, an unusually long time of labour or labour that stops progressing.
"The longer the period between the "water breaking" and the baby's birth, the higher the chance of an infection.
Noting that infection in the breasts can trigger sepsis, she said any illness that raises the risk of sepsis in the general population will do so in pregnant women as well.
Septic shock: "Septic shock occurs because of severe sepsis, which is the severe aftermath of uncontrolled infection. Both have similar symptoms, such as severely low blood pressure. However, sepsis can cause changes in mental state (shock) and widespread organ damage.
Symptoms of shock include restlessness and disorientation, rapid heart rate and low blood pressure, fever of 103°F or higher, low body temperature, skin that's warm and flushed or cool and clammy, irregular heart beat, etc.
Diagnosis includes conducting a thorough physical examination, and laboratory tests, looking for evidence of infection.
Treatment of septic shock is to achieve good blood circulation and reduce the infection followed by good supportive care.
Diagnosis: Diagnosing sepsis in a pregnant woman or one who has recently given birth can be challenging.
Pregnancy and delivery causes many changes in the body, including a faster heart beat, changes in blood pressure, and faster breathing.
Usually, these are signs that may alert a healthcare provider that there may be something wrong, such as an infection.
"Many women get chills and sweat heavily after giving birth. They may also have pain, or feel dizzy or light headed.
"It also may be more difficult to diagnose infections in pregnant and postpartum women. For example, UTIs usually cause a frequent need to urinate, but this can happen because of pregnancy alone.
"So if a woman is going to the rest room a lot, she may just think she is just pregnant and not realise that she has an infection. Pregnant women and new mothers need closer attention for signs of potentially fatal sepsis."
Sepsis can potentially be very serious, as it can cause a rapid fall in blood pressure (septic shock), which can lead to multiple organ failure. If untreated, sepsis can be fatal.
Prevention: It is essential to adopt good hygiene such as hand washing after giving birth, having a thorough bath regularly, and also ensure that the perineum (space between the vaginal and anal openings) are clean.
The woman should also endeavour to gently wipe from front to back in order to miminise risk of bacterial infection to the bladder or birth canal while also changing maternity pads frequently.
Other prevention tips for sepsis in pregnancy include proper handwashing before cooking and eating.
People with diabetes, cancer, and women in their early 30s need to be extra cautious about hygiene and infections. Since they have weak immune system, the chances of sepsis increases.
Imoisili recommended adoption of proper infection control in hospitals, including timely access to treatment, multi-therapy and the right medicines at the right time.
An effect of sepsis includes psychological stress, depression, sexual abuse, educational disadvantages, and other forms of decadent sociological markers.
Sepsis can lead to several complications. Although, it depends on the kind of infection that can worsen if it reaches the unborn child.