By Dapo Akinrefon
THE face-off between Minister of Transportation, Mr. Rotimi Chibuike Amaechi and his estranged political ally, Senator Magnus Abe is threatening the existence of the All Progressives Congress, APC, in Rivers State.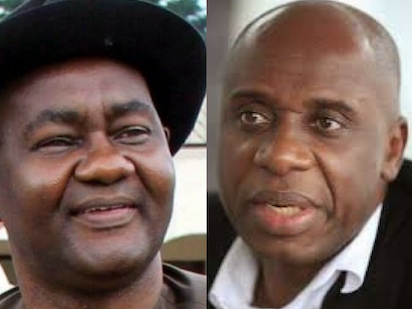 Though Senator Abe   fired the first salvo by accusing Mr. Amaechi of attempting to push him of the party, the latter has denied the claims.
However, loyalists of the former governor are solidly behind their leader as they accuse the lawmaker of being an ingrate.
Lieutenants of the former governor, including Tolofari George, Chief Andrew Uchendu and Celestine Akpobari fired different pot shots at the embattled Senator, who has constantly been attacking Amaechi, who is tagged as leader of the APC in Rivers state.
Amaechi was instrumental to Abe's emergence— Tolofari George
Rising to Amaechi's defense, Tolofari George, a member of the Rivers State House of Assembly from 1999 to 2007, said: "When we started holding the caucus meeting at the State House of Assembly because we were all friends and brothers, we were holding some meetings in Magnus' house then in D/Line, Port Harcourt.
"Amaechi was fully involved in the process. If Amaechi was not comfortable with anybody at that time, I don't think the person would have been able to emerge (as an officer in the House). I don't think Magnus would have emerged (as minority leader).We agreed in our caucus and went to the floor of the House to implement it.
And our caucus members cut across party lines. PDP and APP members were all part of the caucus. We were elected Assembly members of like minds and it was then known to us that Amaechi was going to be our Speaker and Leader.
Speaking further, the former lawmaker said: "Assuming, Magnus Abe said he wanted to become Minority Leader, if Amaechi, our leader had said no and we did not agree in that meeting I don't think it would have been possible because we would have supported another person as one or two other persons also wanted it at that time."
On the crisis rocking the APC in Rivers state, he said: "If they call it crisis no problem if they call it differences no problem the issue has to do with who becomes our governorship flag-bearer in APC come 2019.   Picking holes in Abe's claim that Amaechi tried to stop him from running as governor of the State, he said: "that was what Magnus Abe said and I've asked Amaechi why he would want to stop him if he had the ambition to run for governorship of the party in 2019.
But Amaechi said that was not correct that all he said to Magnus and even Dakuku Peterside, NIMASA DG, was that they should all keep their ambitions and let all of us come together and rebuild the party because we were battered from the last set of elections we held in 2015 into 2016, and we needed to come together again and rebuild a formidable party to defeat the PDP in the State. That was what Amaechi said to me but Magnus claimed otherwise.
Abe not in position to question my credibility—Sen Andrew Uchendu
On his part, the Senator representing Rivers East Senatorial District in the National Assembly, Chief Andrew Uchendu tackled Abe's remarks about his (Uchendu) credibility.
He said: "I'm surprised at all of these. I have a lot of respect for Senator Magnus Abe but if he could say that, then nobody should take him seriously. Magnus stood up and made this statement categorically in the presence of Amaechi, in the presence of some of his core loyalists and almost 30 others at the Abuja residence of Amaechi. I was at that meeting when Magnus Abe in an attempt to assure Amaechi of his total loyalty for life, said and I quote, "your Excellency, I would like Nigerians to learn from my relationship with you and no matter the situation, I will not betray you". And as I said, I put my integrity on the line.
I don't think Magnus will tell Nigerians that he is going to put his integrity on the line on this issue. Continuing, he said: "When he was consulting with people for his governorship plans, he came to me for advice. If I was not credible,   he wouldn't have come to me. In Abe's interview, he said that he met me and that is correct.
And I told him that the impression is that you(Abe) are arrogant and not humble, you are not on the ground, so many people don't like you(Abe). I don't know the truth and I said to him my dear friend you must go and build a solid home base before you go out. And I told him that building a solid home base was what we did when we started with Rotimi Chibuike Amaechi. I said so. He listened to that advice and today he is saying that I'm not credible."
Faulting the interview, the lawmaker said: "contrary to what Abe said in his interview, I never attended any meeting with Ledum Mitee. The true situation is that on my 60thbirthday, in compliance with my earlier advice to him (Abe), Abe met with some prominent Ogoni leaders including Mr. Kpagi and Ledum Mitee and they came with then Governor Amaechi to attend the small choir I put together to mark my 60thbirthday. I never attended their meeting but they attended my birthday from that meeting which was as a result of the advice I gave him.
"How could he say I'm not credible? In one of the Ogoni greatest hour of need during the 1994 constitutional conference, I stood up at the floor of that conference in July 1994 to raise a motion and I drew the attention of the chairman of the conference delegates that as we were meeting to discuss the future constitution of the Federal Republic of Nigeria that there is an ethnic nationality that was not represented and I was referring to the Ogoni nationality.
"It's there in the National Assembly archives and that the conference decree provides that the Head of State should appoint somebody to represent any area where elections could not hold and elections could not hold in Ogoni district and that was what brought Professor Walter Olor to the 1994-95 National Constitutional conference and when he came he started staying with me before he was given his accommodation. Even the Ogonis know, and can attest to my credibility."
While he said his reaction was nothing personal against Abe, he said Amaechi's appeal was for the APC in Rivers to be rebuilt as a united front.
Uchendu said: "Nobody is stopping him from running for governor. But we all agreed with our leader (Amaechi) that we should go back and rebuild the party but he reneged and he said no, he was going to pursue his personal ambition as against the collective good of the party. That is all. That is what he's calling a crisis in Rivers APC."
On Sen. Abe's claim that Amaechi warned him against setting up the party structure in Rivers State for Dakuku Peterside to emerge as the party's governorship candidate, he said Abe's remarks were unfortunate.
He said: It is unfortunate that Sen. Abe is going down so low, to this very low level. It's so sad. There was and there's no such thing in Rivers APC. Remember in my earlier interview, I said at that meeting at the Dome, I said I will respect my age and my loyalty to Rivers State and that I'm interested in who becomes the governorship flag-bearer of the APC in Rivers State and so I will make my contributions and Amaechi, the politician that I know cannot and will not arrogate to himself such powers as alleged by Abe. He couldn't have said such a thing. It is not done he can't say so, there was no such thing to put it very mildly."
Besides, he said as an insider in the party in Rivers State, "I will be in the know if there's any such arrangement. There are several persons in the party interested in running for the office of governor and no one has complained that Amaechi told him that. I'm surprised Abe is saying this and he knows that he's not being factual.
Amaechi not opposed to anybody's gov ambition— Akpobari
Another loyalist of the former governor, Celestine Akpobari, who is an Ogoni right activist absolves Amaechi of the allegations against him by Abe.
Akpobari, who is also aspiring to be the governorship candidate of APC, said: "In 2019, I want to contest for the office of governor of Rivers State on the platform of the APC."
While   hinting that Amaechi was aware of his ambition, he said: "I have mentioned it to one or two persons and they have been discussing it with the   Minister of Transportation, Mr Rotimi Amaechi."
He, however, said: "But on Tuesday 25th April 2017, the Ogoni leadership paid Amaechi a visit in Abuja and we told him that the Ogoni people were solidly behind him and that because of the little misunderstanding between him and Senator Magnus Abe; that he should not think that Ogoni people had queued behind Magnus Abe against him; and that when it was time to lift the ban on political activities in the state, he should still consider Ogoni for governor being that Ogoni people were the only people in the state who were yet to become governor, deputy governor, speaker or chief judge.
"And he said he had sympathy for Ogoni people and that he didn't know who would be governor of Rivers State; and that he was praying to God and hoped it would be an Ogoni man and that whatever it was, God had the final say. That he (Amaechi) had never said the Ogonis would not be the governor and that he was not God."
Tackling his kinsman, Abe, over his allegations that Amaechi has structured the APC in Rivers State for NIMASA DG, Dakuku Peterside to emerge as the party's governorship candidate and as a result Amaechi was opposed to any other person running for the office of governor under APC in Rivers State, Akpobari said: "I read what Magnus Abe said in the interview and I want to say that, that meeting was not held in public. Amaechi is alive and Abe is alive. They are two friends, until tomorrow I still believe that they are two friends and that those who are meddling in the affairs between Amaechi and Magnus may just be burning their fingers. We all know who Amaechi is, that he does not have a stony heart…his looks may appear unapproachable and tough but he doesn't have a stony heart."
Describing Amaechi as a man with a large heart, he dismissed Abe's statements.
He said: "Their relationship was so strong that for many years, everything about Ogoni appointments, Amaechi entrusted that to Magnus Abe's hands. He (Abe) was deciding where and who gets projects or appointments, for years.   Let me give you a small example. I had never made a demand from Amaechi in my life before, but sometime in 2017, I did and Amaechi had to call Magnus Abe to ask for his contribution, but Magnus said "your Excellency, I don't have anything", and Magnus walked away, till today he did not give me that assistance and I did not ask again. So, whatsoever that has been discussed privately should be left to them. I leave that to Magnus but what I can talk about is my personal experience with Amaechi as regards my governorship aspirations and it's totally at variance with Magnus Abe's claims and allegations."
Absolving Amaechi of claims that he was against the Ogonis presenting a candidate to govern the state; he said "Amaechi does not dislike the Ogonis. We met on the 25th of April 2017 and we met again on the 7th of October.   We all know that if Amaechi didn't want to hear anything from Ogoni he won't even mention it.
I don't think that he is against the Ogoni people because if he was against the Ogoni people he would not tell us in that April 25th meeting that he was not against an Ogoni man becoming governor. He (Amaechi) made a man(Magnus Abe) who is from Ogoni, Secretary to Government (SSG) in his first tenure. In his second term, he appointed another Ogoni son, George Feyii again as SSG and Victor Giadom, also from Ogoni was his commissioner for works and several others. So, for anyone to tell me that he hates Ogoni people I   don't believe it."
In addition, he said: "If there is any person that fought Amaechi and his government, it's me Celestine Akpobari. When he wanted to demolish the waterfronts, I was at the forefront of it; I brought Amnesty International into that issue; when they wanted to acquire land for the banana plantation in Ogoni, it was myself that took that matter to court to stop them.
But when he heard that I took form to become LGA council chairman, he supported me and I became the chairman of Khana LGA, that is the kind of person Amaechi is. I completely disagree with any person that would tell me that Amaechi hates Ogoni people, it's a lie."
"Again, the only memorial in honour of Ken Saro-Wiwa was a structure built by Amaechi in the University of Port Harcourt in honour of Ken Saro-Wiwa. It is still standing now, he did that as Speaker of the Rivers State House of Assembly. If he hates Ogoni people, why would he do that?", he wondered.