Ola Ajayi, Ibadan
RESIDENTS of Omi Adio area of Ibadan in Ido Local Government, Oyo State have been having sleepless nights following alleged influx of members of a cult group known as Gobe from Lagos State into the area.
The group which is similar to a Badoo in Lagos was said to have been using charmed machetes on their victims and later use their blood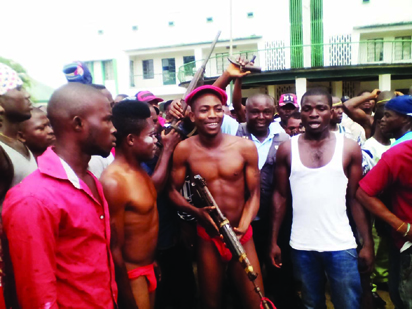 The alleged invasion of the blood-thirsty group was disclosed by Muritala Ifawale Adekola, Chairman of the Oodua Peoples Congress (OPC) in Ido Local Government.
He made the disclosure yesterday when speaking with newsmen at his Omi-Adio residence yesterday.
When describing alleged criminal activities of the group,  OPC leader said they were as deadly and notorious as Badoo group in Lagos noting that instead of using grinding stone and handkerchief to unleash terror on their victims,  Gobe group uses cutlasses that are laced with charms to get the blood sample of their preys.
Adekola called on the state police command and other security agents in the state to quickly rise up and check the group before they become uncontrollable.
Making reference to a recent bloody clash in the Omi community last Monday,  the OPC leader displayed about five cutlasses allegedly seized from members of the Gobe gang by OPC members during the Monday's violence.
Adekola, however, vowed that members of the Aare Gani Adams led OPC would not allow members of the "Gobe" group to operate in the Omi-Adio community and other parts of Ibadan.
When contacted, the State Public Relations Officer, SP Adekunle Ajisebutu dismissed alleged influx of any cult group with kid gloves and allayed fears of the residents in the area.