By Soni Daniel, Northern Region Editor; Emma Amaize, South-South regional editor; Anayo Okoli; Dapo Akinrefon & Perez Brisibe
The re-election bid of President Muhammadu Buhari with the appointment of Minister of Transportation, Mr Rotimi Amaechi as the Director General of the President's campaign organisation elicited mixed reactions yesterday from different groups across the geo-political zones of the country.
Those who reacted to the president's bid for a second term in 2019 were Arewa Youths Forum, Ohaneze Youths Council, Afenifere and members of the South-South Leaders Forum.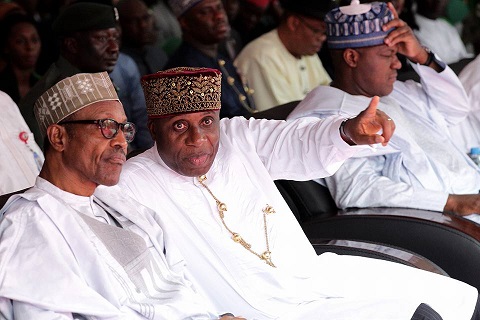 Buhari's re-election inhuman, insulting, insensitive — Arewa Youths
For ignoring the wanton killings in several states across Nigeria and indicating his re-election bid for the 2019 Presidency, Northern youths have accused President Muhammadu Buhari of being inhuman and insensitive to the mood in the land and the plight of suffering Nigerians.
The youths noted with dismay that the second term bid declaration at a time of fuel scarcity, rising cost of living and wanton destruction of lives and property showed that the president did not care about the feelings of Nigerians.
The youths under the aegis of Arewa Youth Forum said they were alarmed that the reckless mass murder of innocent Nigerians in Benue, Rivers, Kaduna and Kwara took place at a time the president gleefully extended the tenure of all the nation's service chiefs on account of 'excellent performance'.
In a strongly worded mail signed by the National President of the Arewa Youth Forum, Alhaji Gambo Ibrahim Gujungu, the youths lamented that none of the killers had been arrested and prosecuted to serve as a deterrent to others.
The AYF said, "We are also worried that Nigerians had to go through the yuletide with agony and pains because of the fuel scarcity which still persist into the New Year with the Federal government not having a definite roadmap to ending the malaise.
This scenario was also compounded by the prevailing hardship Nigerians have been going through because of the actions and inactions of politicians and the elite who we believe have not done enough to assuage the plight of the ordinary Nigerians.
"If you add these challenges to the corruption allegations that had plagued some top ranking officers of this administration and the inability or refusal of Mr. President to address same leaves a sour taste in the mouth of many Nigerians. Consequently, we are appalled to hear that in the midst of all these the president and his men have already put in place measures to kick start his re – election bid for 2019.
"As the apex body of youths in the 19 Northern states and Abuja with affiliates across the country, we see the re election bid of Mr. President at this point in time inhuman, uncalled for and an insult to the sensibilities of the suffering Nigerian masses.
"On the magnitude of the killings, we expect the president to visit some of the states and when he came to Kaduna, he should have condoled with the people or even visited  the affected area.
"It is disheartening that when the President visited Kaduna State, black marketers were having a field day as many of the stations were closed and the people were buying fuel at over 350/litre. This we believe is not good enough. Nigerians expect a more purposeful leadership from the champion of change than this anarchy in the land and the time to act is now, Mr. President," the youths warned.
Fulfil your 2015 promises first — Ohaneze Youths Council
Ohaneze Youths Council, OYC, the youth wing of the Igbo apex group, Ohaneze Ndigbo, on its part called on President Muhammadu Buhari to first fulfill his 2015 electioneering promises before contemplating of going for second tenure.
Though the Council said it would not stop any qualified Nigerian to pursue his or her political ambition, it argued that it was also proper for politicians to give the electorate what they promised them before asking for their votes again.
OYC in a statement by its President General, Mazi Okechukwu Isiguzoro, said that President Buhari still has opportunity to reclaim the confidence of the people, saying that Nigerians were not  happy with his administration.
According to the statement, "Ohaneze Ndigbo Youth Council worldwide will not discourage any Nigerian from his constitutional right of seeking any public office. President Muhammadu Buhari made some electoral promises in 2015 such as free meals for primary school pupils and rehabilitation and revamping of Enugu coal mines which were closed and abandoned for 44 years now.
"Ohaneze Ndigbo Youths wish to call on President Buhari to fulfill those promises before declaring his ambition for second tenure. Nigerians are yearning for true change and President Buhari has the opportunity to reclaim the confidence of Nigerians before December 2018.
"Nigerians are not happy with President Buhari because of high cost of living and the current outrageous hike in petrol price while some small scale companies have folded up thereby creating unemployment for the teeming youths of this nation. Ohaneze Ndigbo Youths Council is asking the President to reconcile with the youths and should also stop the witch-hunt of perceived political opponents"
Nothing has changed—South South leaders
South-South leaders however reacted differently, yesterday, to the president's re-election bid. While some said he should forget the idea, others encouraged him.
A member of the Pan Niger Delta Forum, PANDEF, Prof Sam Ibodje, who spoke to Saturday Vanguard on phone, asserted: "I do not think that Buhari having been able to survive the pressure that God has seen him through would want to go for another tenure. But I think it would be in his honour and the Africa continent would respect him if after the first term, he decides to support another person to run for that position because I do not think it would do him any good to go and run for any election," he said.
The PANDEF stalwart stated, "I say this because by 2019,  age and pressure on him would not be on his side and I do not think there is so much that he has done that would sell him easily like before 2015 when the public did not know what he would be capable of doing. I know that he tried in spite of the weak economy, he was able to hold the system the way he did, but that is not to say that he should not do himself the honour of supporting another person because I would not clap for him if he decides to do so," the professor added.
Rivers state-based environmental and human rights activist, Ann-Kio Briggs, said: "Knowing full well that the South-South makes up the five per cent that did not vote for Mr. President in 2015 when the Minister of Transportation, Rotimi Amaechi was the Director of his campaign, I can tell you that nothing has changed and nothing has been achieved.
"And there is nothing that would make part of the five per cent that comes from the Niger Delta that did not vote for Buhari in 2015 to change their mind. Nothing has happened that would make them vote for him in 2019, so even if they make me or Goodluck Jonathan the campaign director or manager in 2019, I can assure you that the same people who did not vote for him in 2015 would still not do so in 2019.
As a matter of fact, we believe that the people that voted for him from the South-South, if they actually did, would no longer vote for him again," she added.
Former Secretary General of NUPENG, Chief Frank Kokori, however, disagreed with her, saying, "The only problem Buhari had was his health challenge but now he is even fitter than how he was when he became the president.
"From time immemorial, he is the only person, a man like me could have confidence in because I have always believed in a country without corruption and this man who can fight corruption is there. It is just that he is having problems with the Nigerian judiciary and Nigerian police.
"But thank God, who has overcome his health challenges for him, so I am in support of him re-contesting and Amaechi being his DG in 2015, who did his job well, it would be unfair if he was not reappointed," he said.
Kokori however pointed out, "the only problem people have with this government is slowness, most of the problems are heaped on Buhari, but people fail to realize that the country was so bad before he took over."
It's a wake up call—Afenifere
In its reaction, the pan Yoruba socio-political organisation, Afenifere said the reaction of the northern youths to President Buhari's re-election bid should be seen as wake up call.
Afenifere's National Publicity Secretary, Mr Yinka Odumakin said: "we have listened to what the youths are saying and that should be a wake up call to the president. If northern youths  are making such kind of claim, then the president cannot say all is right.
The various crises all over the land are all manifestations of the dysfunctional structure in different ways. For the president to insist that he wants to continue will show the real system they are defending which he thinks will guarantee his support base alienating his own base.
Therefore, we must insist on a restructured country where every region in the country will be happy. I think that is the message the youths, who are saying they don't want the president to continue in office are saying."