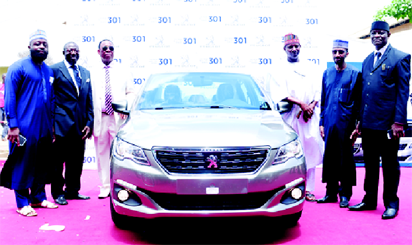 From left: Alhaji Shehu Sani, GMD ASD Motors, Mr. Bawo Omagbitse GM Sales and Marketing PAN Nigeria, Chief Andrew Okocha, Chairman AC Okocha Motors, Alhaji I Saidu Mohammed, MD ASD Motors, Alhaji Ibrahim Boyi MD/CEO, PAN Nigeria and Alhaji Jumat Alli-Oluwafuyi, ED Finance, PAN Nigeria, during the launch of the new Peugeot 301 in Kaduna.
French carmaker PSA, owner of the Peugeot, Citroen, Opel, Vauxhall and DS brands, will offer an electric version of all its models by 2025, CEO Carlos Tavares has said.

Speaking on the sidelines of the Detroit Motor Show Tavares said the PSA group would be "100 percent electrified" by 2025, meaning all cars would be available in hybrid or all electric, the Automotive News website reported.
Until now, Europe's second-biggest carmaker had only committed to having electric options on 80 percent of its range by 2023.
Automotive News quoted Tavares as telling the paper's World Congress that PSA would offer 40 hybrid or fully electric models within seven years.
Tavares also announced that PSA was planning a comeback in the United States after an absence of more than 20 years.
PSA last year took over General Motors' loss-making Opel and Vauxhall operations, in a 2.2-billion-euro ($2.6-billion) deal aimed at narrowing the gap on German giant Volkswagen in Europe.