By Emmanuel Una
CALABAR – A Federal High Court sitting in Calabar, Cross River State, has ordered the Nigeria Security and Civil Defence Corps, NSCDC, Ogoja, to pay N22 million to an independent petroleum   marketer, Mr. Frank Oko, for illegal apprehension, confinement and pummeling.
Presiding Judge, Justice I E Ekwo in   his judgment, declared: "The arrest, detention, assault, battery, humiliation, and brutalisation of the applicant  by the respondents is wrongful, illegal, unconstitutional, callous, inhuman, and blatant violation of his fundamental    human rights."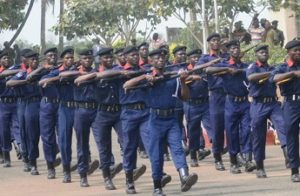 He accordingly awarded the sum of N22 million as damages against the NSCDC for violation of the fundamental human rights of the applicant, illegal detention and medical bills.
I was beaten, detained in the toilet – Oko
Speaking to NDV on his travails with NSCDC, Oko said: "On January 8, 2015,    my truck loaded 30,000 litres of petroleum products (AGO) in Tonimas Oil Depot at Onne, Rivers State for delivery at Okuku, a suburb of Ogoja, and on entry into Ogoja, some corps personnel stopped the truck and demanded for the delivery note.
"The driver handed them the note and they saw "Ogoja" as destination of the truck but they went ahead and tagged the truck 'diversion of petroleum products' even as the truck was still within Ogoja.
"They asked the driver to park the truck at the Ogoja Council premises, but I was alerted and I got there, I told them that it was the month of  January and fire is rampant and if the truck is parked in the council's premises and  there is fire incident, there  would be no equipment to fight the fire.
Shot on the legs
"My statement infuriated the Civil Defence men and they began to attack me. When I attempted to run away from their beatings, they shot me on the legs which sent me  sprawling on the ground.
Freed after extorting N100, 000 bribe
"Even at that, I was dragged to the council premises and assaulted the more. They compelled me to do frog jump and thereafter, detained me in the council's toilet and asked me  to give them the sum of N100,000 before I  was released," he said.
Corps personnel threaten police
Oko disclosed that the matter was reported to the Police in Ogoja, but Civil Defence men invaded the Ogoja Area Command  office and threatened the policemen, causing them to hands-off the matter.
Lawyer steps in
"When my efforts to get the police to handle the matter failed, I had to approach a lawyer, Mr Mba Okweni, who instituted a matter at the Federal High Court, Calabar against the NSCDC and the case dragged on for two years and on Monday, 8th  January, judgment was delivered in my favour," he said.
Commandant unavailable for comment
Efforts to speak with the Cross River Commandant of the NSCDC did not yield result as he was said to be out of the state. An official at the state secretariat on Abitu Avenue, Calabar, told our reporter, "Nobody else can speak on this matter other than the Commandant."