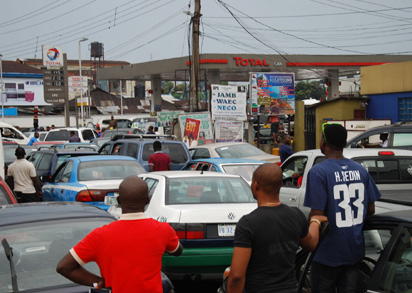 Long Queque at Total Fuel Station beside Total Village along Aba Road in Port Harcourt weekend. Photo: Nwankpa Chijioke
The Independent Petroleum Marketers Association of Nigeria (IPMAN) has advocated immediate demolition of over 2,000 identified illegal filling stations operating across the country,  to check the persistent scarcity of petroleum products.
The Chairman of Board of Trustees of IPMAN, Alhaji Aminu Abdulkadir, gave the suggestion when he fielded questions from State House correspondents in Abuja on Sunday.
Abdulkadir, who was one of the participants at the recent meeting of critical stakeholders in the nation's oil sector, said the demolition of the retail outlets had become necessary to ensure availability of the products.
The meeting, which was presided over by the Chief of Staff to the President, Malam Abba Kyari, was convened by the presidency to find lasting solutions to problems of petroleum scarcity and diversion of the commodity in the country.
He said the exercise, if carried out by the Federal Government, would also serve as deterrent to those who might want to frustrate Federal Government's efforts towards ensuring stability and sanity in the oil sector.
"But what is true is that there are people who are not licensed marketers,  who have access to these products and they are doing what they like best because they want to profiteer from it, thereby constituting these problems for government, marketers and Nigerians at large.
"And these over 2,000 unlicensed marketers are neither IPMAN nor DAPMAN members.
"These are people who are lawless. They are people who are also associated with bunkerers and these bunkerers are being encouraged because there are buyers and who are those buyers.
"The buyers are those people who are constructing filling stations without any documentation. They are not members of NOMAN, they are not members to IPMAN, they are not members to DAPMAN and they are not under the retail of the NNPC.
"That is why at the critical stakeholders' meeting I suggested that such petrol stations should be demolished.
"I also reemphasised this at the National Assembly that such illegal retail outlets should be demolished,'' he added.
He, however, said that those illegal retail outlets, particularly the ones along the nation's borders which might meet national requirements, could be converted to NNPC outlets.
He stated that such retail outlets should be managed by the Nigeria Labour Congress through transparency arrangements, to ensure effective and efficient supply of the products in the affected areas.
"I will recommend that the Nigeria Labour Congress (NLC) should be given these illegal outlets along the borders to manage them.
"If we operate this business with transparency, everybody will be happy.''
On full deregulation of the oil sector, Abdulkadir, who was one time National President of IPMAN, said government should consider many factors before taking decision on complete deregulation of the sector.
According to him, prices of petroleum products always affect the quality of life of the citizens.
He, however, lauded the government for its decision to maintain the current pump price of petrol at N145 per litre, adding that some drastic measures put in place by the NNPC and PPMC would ensure stability in supply chain of the commodity.
"You see this regulation or deregulation, NNPC as a national oil company has two responsibilities; one is to run the company on economical indexes, the other one is the social responsibility because it is a national oil company.
"But with the position government has taken now, we have seen that both the Federal Government and NNPC have taken a strong position to resolve these issues once and for all.
"And we also, the genuine marketers, are collaborating with them; we are augmenting all their shortfalls to see that they succeed, if they succeed we succeed and they fail we all fail.
"We have colossal investments in this country for God sake, we have colossal investments in trillions not billions. So, no one will like to wash down his or her investment,'' he said.
Abdulkadir also commended the government for ensuring security of life and property of all citizens, saying that marketers had been carrying out their lawful duties across the country without fear of  being attacked by criminals.
The chairman added, "before this time we were afraid in this country; if actually tomorrow one of your oil terminals would not be burnt down by Boko Haram or your filling station would not be gutted into fire by Boko Haram.
"Today, we are grateful to the government that they were able to secure all these.
"If for nothing, we should be able to give government maximum cooperation and support which we are giving.''
NAN