By Perez Brisibe
IMMEDIATE past governor of Delta State and member of the People's Democratic Party, Dr. Emmanuel Uduaghan has expressed fears that the PDP might not be able to return to power in 2019.
Uduaghan, a medical doctor cum politician while speaking on his experience and challenges while in office during The Sunday Interview, a flagship programme on Television Continental, also spoke on his political future in the PDP, stating that he is almost back to politics after taking a timeout.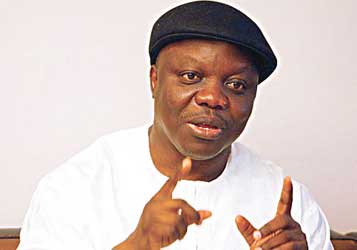 My Political Influencer
Chief James Ibori who is my predecessor, influenced me into joining politics. I followed him a lot and gave him advice that came handy and he had wanted me to go to the House of Representatives. When he came back for second tenure, he still dragged me along and that was how I came in. So, he was the one that influenced me into politics.
Defining Moments as Governor
There were very many defining moments for me as governor, one of which was the fact that my becoming a governor really was something that took a lot of people by surprise. Why? Because, I am an Itsekiri man, a small ethnic group in Delta which had just had crisis with Ijaw, a bigger ethnic group and the Urhobo, the biggest ethnic group in the state, and a lot of people wondered how an Itsekiri man could get votes from Ijaw and Urhobo. So a lot of Itsekiri did not believe that it could happen.
Experiences as Governor
There were lots of experiences while in office, especially at that time when there was crisis in the Niger-Delta. Though it had started before James Ibori became governor as inter-ethnic crisis, he managed it very well with the inter-ethnic issues better resolved in his time. But there was still militancy that continued while I was governor and at that time, it was like a suicide mission.
So I went into office headlong having at the back of my mind that I was on a suicide mission, so with that, I had no indication on how far I could go in trying to settle militancy issues, including going to the creeks at night to talk with some of the militants, sitting with some of them in a room in the creeks with all of them holding AK47 and chains of bullets around them.
In one of the cases on my way back, I was almost shot by the military because they couldn't identify me. So, these are some of my critical moments while in office.
But what I keep telling people is that, people see the glamour of the office, but they do not see the pain. There are a lot of pains in holding a public office and one of the pains I had to bear was that I was so restricted that the usual  buka  I used to go to, I couldn't confidently go there again. I tried it twice, but it wasn't funny, so you would no longer have a private life.
Though sometimes I miss being governor as you can exercise some power and authority, but some people make the mistake that when they are in office, they behave as if they would be there forever.
My silence in Politics
My silence in politics was for me to take a time out from politics. It is a timeout, in fact, I am almost fully back. I believe that when you leave an office, just pull back as much as possible, if the person there needs you, it's okay, if he doesn't need you, stay away, don't try and control the office you have left from the back door. That is what causes a lot of conflict between the old and new, so I tried as much as possible to stay away.
Legacies in office
When you talk about legacies, there are intangible things that people do not see. People do not appreciate the extent of peace and security until there is insecurity, so we did a lot to make sure that the state was secured.
Apart from that, on the political side, I also tried to make sure that we had a peaceful political environment in Delta and I left it at that by ensuring that there was no violence in most of our elections both at the state and local government levels by ensuring that we conducted peaceful elections.
Rumoured defection to the APC
You said rumour, if it is rumour, let's leave it like that as you called it.
PDP and 2019
What has been happening to the PDP since 2015 is unfortunate. The exit of PDP from government in 2015 was avoidable and it should not have happened if people listened to advice especially from our elders, but by the time the main actors realised it, it was too late. So there was so much frenzy to try and correct it but APC had already taken roots and grounds in the country and the international community, and that gave the PDP a very bad image.
The PDP could not recover after that and of course, in trying to rebuild the leadership, we made the mistake of bringing somebody that had never been in the PDP as the chairman in the person of Amodu Sheriff and you saw what happened.
That started another crisis until the Supreme Court fortunately decided in generality and favour of the PDP members. We were quite happy and hoping that holding a national convention, we would get it right but the fallout of the convention has not been very good as there are still a lot of grumblings. There is supposed to be a team or teams that are going round trying to pacify and reconcile people but I do not think the team is achieving anything.
I do not see PDP being able to wrestle power from APC
So the party is still not where it should be as an opposition party that can take over government, there was so much hope but except certain things happen between now and election, I do not see the PDP being able to wrestle power from APC.
My future with PDP
Those are decisions that are I cannot take alone. I belong to a political family which we have built over 18 years.
Projections for 2019
I know that from what we are reading, the president wants to come back for re-election which he has the right to and I am 95% sure he would contest for the election. Let me tell you why I am sure. Even if he, as a person decides that he doesn't want to contest, the people around him won't allow that. I tell people that it is difficult to say you want to do one tenure because the seat you are occupying is not just for you alone.
As a governor for instance, if I had decided that I wanted to do just one tenure, it would not have been possible because your family would want you to go, your driver who is known around where he stays as the governor's driver wants to remain as same, including your orderly and others around you because there is a perk of the office they are also enjoying, so the office is not just for you alone.