By Emmanuel Elebeke
ABUJA – The Special Adviser to the President on Niger Delta, Brigadier General Paul Boroh (rtd) has commended the people in the Niger Delta for the maintenance of peace which he said had yielded dividends for both the region and the country.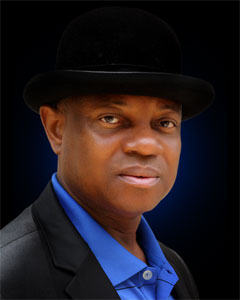 He said that with peace in the area, there is greater security of lives and property, more investment and high financial and security dividends for the country.
General Boroh said that with the Organisation of Petroleum Exporting Countries (OPEC) quota of 1.8 million barrels per day for the country and the current price of $68 per barrel, peace in the Niger Delta is fetching the country $122, 400,000 daily.
He said with such dividends and the prudent management of resources by President Muhammadu Buhari, the country can look forward to a bright future.
He praised the people of the Niger Delta for the maintenance of peace, and the consciousness that oil facilities is beneficial for all and should be protected.
He assured that the new Federal Government initiative for the Niger Delta would yield the desired results of infrastructural growth, jobs and sustained development
He thanked the Pan Niger Delta Forum (PANDEF) and other groups in the Region for their contribution to peace in the area and urged them to deepen the discussions with the Federal Government towards the all-round development of the region.
He also appealed to oil companies in the country to provide more jobs for Niger Delta youths and increase their contributions to develop the area that has given them so much returns on investment.
Gen. Boroh said peace in the Niger Delta is being achieved through the collective efforts of strategic partners especially the various Ministries, Departments and Agencies of Government.
On the Presidential Amnesty Programme, he said it has been key to the resolution of the Niger Delta Question and calming youth restiveness.
The Programme he said "has achieved its Short and Medium Term Objectives of ensuring peace and stabilizing the security situation in the Niger Delta region through training and empowerment of the Ex-militants in various skill areas including: Internationally Certified Pilots, Air Traffic Operators, lawyers, medical personnel, professional welders, artisans, fashion designers, hospitality managers and in sports and farming"
Gen. Boroh admitted that peace and its maintenance can be expensive, but that the cost of conflict is far more expensive in addition to being destructive.
He said that while the Presidential Amnesty Programme is designed based on the United Nations Disarmament, Demobilization and Reintegration (DDR) Model, "It is itself unique because it is a Resource-Based Conflict Resolution with exceptional Nigerian dimensions.
''Indeed, it is a learning curve and the managers can only perfect their acts through lessons learnt.
''The Office is highly desirous of winding down the Programme as quickly as possible," he added.