She's my girlfriend, the car's a gift—Suspect
By Daud Olatunji
ABEOKUTA—Men of Ogun State Police Command have arrested one Ayo Oseni, for allegedly raping his Church member identified as Grace. Oseni said he is a Senior Pastor with a church in Abuja.
The Commissioner of Police, Ahmed Iliyasu, while parading the suspect, said the pastor had carnal knowledge of his Church member and reportedly duped her of a Lexus 300 vehicle.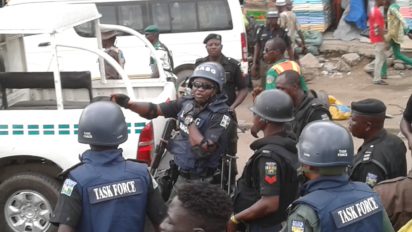 Pastor Oseni was one of the 54 suspects paraded by the State Commissioner of Police yesterday, at the State Police Headquarters, Eleweran, Abeokuta.
However, the pastor, in a chat with journalists, denied the allegations, saying the car was a gift from his girlfriend.
He said: "We actually had a love affair in Abuja. I didn't steal the car; it was a gift from my girlfriend in Abuja.
"I want the Police to get the actual fact about the case. I want them to get what really transpired between me and the lady.
"I don't believe, as an accused person, I should be going through all these. The complainant should come and attest to the claim."
The paraded suspects were arrested for crimes ranging from robbery, kidnapping, murder, cultism to illegal possession of firearms.
The Commissioner said the suspects were nabbed at various locations in the state between December 2017 and this month.
Recovered arms, ammunition
Iliyasu said 39 firearms, including AK-47 rifles, pump action guns and locally-made pistols as well as 396 ammunition were recovered from them.
Also recovered from the suspects, according to the Police boss, were eight vehicles.
Iliyasu further pointed out that through technical intelligence, operatives of the Federal Special Anti-Robbery Squad, FSARS, in conjunction with other Police formations, deliberately embarked on Operation Criminal Mop Up to ensure crime-free Yuletide.
The Ogun State police boss vowed that the Command would fight criminals to a standstill in the new year.
He said: "We are not going to rest on our oars and the battle will be taken to the doorsteps of the criminals until Ogun State is rid of all sorts crimes."