The Head of Civil Service of the Federation, Mrs Winifred Oyo-Ita, has advised federal civil servants to key-in  into the Integrated Personal Pay Information Services (IPPIS) initiated by the Federal Government.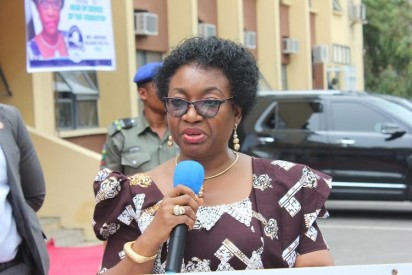 She gave the charge on Friday in an interview with newsmen during her visit to Okemesi Ekiti in Ekiti West Local Government Area of Ekiti.
She said they should fill the necessary information required of them online to be captured by the service.
Newsmen report that the Head of Service was in Okemesi to commiserate with Mr Michael Folayan, the Permanent Secretary, (Common Services) in her office over the demise of his father, Deacon Moses Folayan.
The head of service said that the Federal Government introduced the new version of human resource module collate accurate data for all federal civil servants.
She added that it was also to ensure that the pay roll module for federal civil servants work effectively.
"We have about 400 agencies on IPPIS now with both Military and para-military personnel also coming on board, "she said.
"IPPIS was introduced with the help of the World Bank about nine years ago to cleanse the personal cost of the Federal Government,   and it is standing on two legs: that is Pay roll and Human Resources Module.
"When the programme started, it was only on payroll module without giving cognisance to the human resources and that is, we just pay our workers,
"But when we start looking for information about them, it becomes a problem for us and that now informs the commencement of the human resources module," she said.
The HOS added that the introduction of the human resource information include the capturing of the nominal role, work history, and other information of every federal civil servant.
She said such information could be found in the officers' files electronically instead of going manually to look for them.
The human resources module would serve as check and balance for the civil servants and also guide against ghost workers in the federal civil service.
She also said that her office would verify the information supplied by every federal civil servant.
She said that the exercise had commenced with the verification of information of supplied by the staff members from seven agencies.
She said that her office would capture all the other Federal Government owned MDAs to ensure that the pay roll modules matched the human resource modules from them.
Mrs Oyo-Ita, also spoke on life after retirement for most civil servants.
She said that there were plans to train civil servants in areas that would make them self-reliant after retirement without depending solely on pensions or government for survival.
Newsmen report that the Head of Service of the Federation was received during the condolence visit by to late Deacon Moses Folayan family by  Mr Michael Folayan, his siblings and other family members left behind by the  deceased.
NAN