Gov. Samuel Ortom of Benue on Tuesday reported fresh killing of two policemen in Benue to President Muhammadu Buhari, urging prompt action to stop the carnage and arrest those behind it.
He disclosed this to State House correspondents after he briefed Mr President on the security situation in the state, since the New Year killing of many people in the state.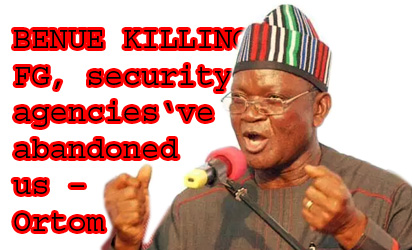 According to the governor, the situation has taken a different dimension as the militia exchanged fire with mobile policemen in Logo local government, killing two and leaving another injured.
He said that the other officer declared missing after the incident was found on Tuesday morning while the state government had taken the injured to the hospital for treatment.
"So, when it gets to the level of militia killing security men who are armed and are trained to protect lives and property is it not taking a dangerous dimension? Who is now safe?'' the governor asked.
The governor reported that the militia men were encamped in Tungwa, Awe Local Government, from where they planned and launched their attacks on innocent people.
He recalled that he had earlier briefed the President when the Jan. 1 incident took place.
He explained that after staying back on the ground to do some needful to restore normalcy, it was important for him to come personally and brief him.
"Already, because of the communication we have been having when this incident happened, action has been taken as directed by him.
"The movement of the DIG, the movement of the Inspector-General of Police, now to head to Benue state to ensure that this challenge is surmounted was at the instance of Mr President.
"Of cause additional security personnel, DSS and Police have been deployed, and even the Army.
"We have additional personnel on ground now and we are adequately and fully giving them the full logistic support to ensure that people are protected,'' the governor added.
The governor again accused the leadership of Myetti Allah cattle breeders as being behind the mayhem and called for the arrest and prosecution of the group's leaders.
Ortom acknowledged that President Buhari was carrying out further investigations into the Benue crisis to know what to do next.
"I had to brief him. He is also doing further investigation to know the next line of action,'' he said.
He said that since June 2017 he had written to the security agencies about those who posed threats to the collective interest of the people requesting that they be dealt with.
"They must be arrested and prosecuted because we cannot allow impunity to continue to thrive.
"And of cause, threat and no action have resulted to this killing and I think also that Mr President will also do the needful to ensure that something is done urgently,'' he said.
On the accusation that the Benue government had hired machinery to fight on behalf of the state the governor said the allegation was untrue.
He also denied alleging that he was being prevented from seeing Mr President, adding that besides talking with him on phone he had met him personally to discuss the situation in Benue.
"The truth is that I have access to Mr President anytime I want to speak with him on phone, and to see him personally.
"I requested that I wanted to speak with him on phone that day because I couldn't come to Abuja and he gave me the opportunity; I did, and today I am here and I have seen him.''
When asked if he would approve the deployment of soldiers to the troubled state, the governor replied in the affirmative.
"Anything that can stop the killing of my people, I will go for it, I will support it.
"Any policy or any directive, anything that will help stop the killing of these innocent people who are not armed will go because this cannot continue.
"You know that continuity of this will create greater challenges for us and I don't want it to continue.
"We are struggling with economic issues; we are struggling with political issues we are struggling with several other issues in this country, security issues and all that.
"Benue state should not be part of this. There is no need for it
"The law of prohibition of open grazing and establishment of ranching was made out of the necessity to ensure that we have peace for herdsmen and farmers.
"And that is what we have done. The law seeks to protect all.''
The governor also debunked the allegation that farmers killed some 2,000 herdsmen and stole their cattle, saying that the person making the allegation had yet to substantiate it and other claims he had made.
Ortom stated that he had yet to understand the idea of creating colonies for cattle breeders to prevent farmers-herdsmen clashes, saying that the solution to the problem was ranching.
"Well I am waiting to be briefed about what colony means, I don't understand it and until I know what it is, but for us the way forward is ranching because it is the global best practice.
"And it is not just practiced in other parts of the world; on African soil, in Swaziland, South Africa, Tanzania, Kenya, Mozambique, almost all African countries that rear cattle they ranch.
"So, why can't we do the same thing here,'' he added.
The governor stated that he, as a farmer, had a ranch in his farm and "the permits are available for people who want to ranch their cattle to also assess land and begin to ranch.
"So, it is free for everybody and that is the right way to go and since we started implementation there has been relative peace among farmers and herdsmen,'' he explained.
NAN