By Chinonso Alozie
OWERRI—AMONG the governorship aspirants in the All Progressives Congress, APC, in Imo State,   contending to get Governor Rochas Okorocha's endorsement, are his son in-law, Mr. Uche Nwosu and the Deputy Governor of the state, Prince Eze Madumere.
Vanguard monitored the development and observed yesterday, that the duo have entered into what seemed to be a battle of wits to get the endorsement of the APC 's 27 party leaders at the local government level.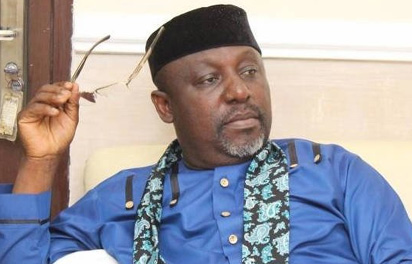 For Okorocha's son in-law, who had gotten endorsement from his Nkwerre Local Government, things are turning up fine, as he has also gotten the endorsement of Ikeduru Local Government Area leadership.
Nwosu was endorsed recently by some members of the party who claimed to be top APC party leaders. They included Mr. Charles Amadi, Mr. Ifeanyi Opara, Mr. Obinna Nshirim and Mr. Edward Ihejirika, among others.
Some pictured the endorsement at Ikeduru  as a breakthrough, having such a support from a local government, which is the federal constituency of the Deputy Governor of the state, Eze Madumere.
However, the Deputy Governor has been endorsed by his party members in his home town, Achi, Ezi-Mbieri in Mbaitoli Local Government Area, an exercise spearheaded by a chieftain of the party, Mr. Marcellinus Nlemaigbo and the transition committee chairman, Mr. Steve Odoemena.
Vanguard gathered that among the most popular support group for Okorocha's son in-law, is the Ugwumba Movement, while that of the Deputy Governor, is believed to be the Madumere Fans Club, a major peer group in the area.
It will be recalled that Okorocha, had been advised to soften the tension in the party by making public his preferred candidate for the party, as such would enable the party leaders to settle possible rifts that could blur their chances of winning in 2019.