By Anayo Okoli, Chinonso Alozie & Chimaobi Nwaiwu
OWERRI— IMO State Governor, Rochas Okorocha, yesterday, lamented the unchecked killings by herdsmen, saying that Nigeria had been bedeviled by the menace of terrorism and herdsmen killings, describing the situation as unfortunate.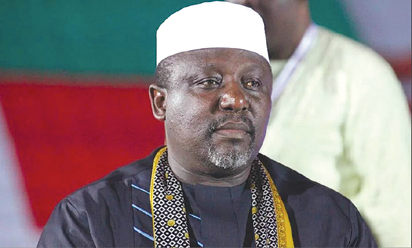 This came as the  Catholic Bishop of Umuahia Diocese, Rt. Rev. Lucius   Ugorji warned that Nigeria is sitting on a time bomb that could explode anytime if the killings by Fulani herdsmen are not stopped urgently by the Federal Government.
This is even as the  Igede people of Benue State resident in Anambra and Delta states have also joined millions of Nigerians to berate the administration of President Muhammadu Buhari for its alleged shielding of the herdsmen from facing the wrath of the law over obvious terrorist activities they have been carrying out against innocent citizens.
Okorocha's statement came through his Chief Press Secretary, Mr. Sam Onwuemeodo, while speaking at this year's Armed Forces Remembrance Day celebration held at Heroes Square, Owerri.
Okorocha said he was not happy that, "Nigeria today is passing through a very difficult time. We are having so many challenges, ranging from terrorism to activities of the evil herdsmen and those who have chosen to kill for no just reason."
The governor, who is known for supporting the Buhari-led government further said: "It comes to a point when a nation may look hopeless and helpless. This is a very difficult moment in the history of the nation, but suffice it to say that we are consoled by the fact that we have gallant soldiers who are ready to lay their lives to save our nation."
Nigeria on time bomb
However, speaking at Ihechiowa, Arochukwu council area of Abia State, at the weekend, during the dedication of St Mark's Catholic Church, Uburu, Catholic Bishop Ugorji lamented the herdsmen killings, saying the herdsmen attacks on innocent Nigerians "are becoming too many," as he warned that "Nigeria is sitting on a time bomb."
He said: "If the Federal Government fails to do something now, a time will come when it will be too late."
Bishop Ugorji called on the Federal Government to take urgent and decisive steps to avert further bloodshed in the country, saying that as pastoralists, who are also farmers are morally bound to abide by the tenets of farming which includes protecting another farmer's farm and crops.
He accused the Federal Government of looking the other way, while herdsmen go berserk, killing and destroying crops and farmland in communities and lamented that their activities constitute a hindrance to the government's increased food production programme.
Buhari shielding herdsmen
Meantime, the Igede people of Benue State in Anambra and Delta states have berated the administration of President Muhammadu Buhari for allegedly shielding Fulani herdsmen from facing the wrath of the law over obvious terrorist activities, and its lack of interest and inability to take commensurate action against the incessant killing of people  by herdsmen.
A patron of Ominy Igede Anambra /Delta States and immediate past President General of the association, Chief Patrick Akobo, in a statement  in Onitsha, described the latest killing of over 73 people in Benue State by the  herdsmen as a "killing beyond pardon and an  affront to an average Benue man and woman."
Chief Akobo urged President Muhammadu Buhari to set up a special Police squad to control the menace of the Fulani herdsmen who have repeatedly attacked and killed en-mass,  the people of Benue in their homes and farms.
"The popular view  is that, Mr. President being a Fulani himself, is turning a blind eye to an obvious act of terrorism and well planned criminal activity with a hidden agenda and shielding of his fellow kinsmen from facing the full wrath of the law.
"Mr. President sir, it is nothing to be happy about that you have been able to control to some extent the Boko Haram insurgency, only for the herdsmen to take over from them to cause more havoc, but be informed that from the look of things, if nothing is urgently done, the attack will only increase and cause tension in the country, and reprisal and counter attacks will be the order of the day, thereby sounding the drum of war.
"We are herby imploring the Federal Government to stop handling the Fulani herdsmen menace with kid gloves, but to urgently take action to save the lives of innocent Nigerians. Nobody has monopoly of violence. There is elastic limit to what Benue people will take from the hands of the Fulani herdsmen."