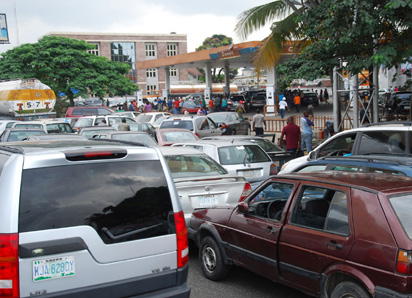 Long Queque at Conoil Fuel Station along Aba Road in Port Harcourt weekend. Photo: Nwankpa Chijioke
The Nigerian Security and Civil Defense Corps (NSCDC), Bauchi State Command has commenced the monitoring of petrol filling stations to ensure that they dispense fuel in their custody.
State Commandant of the corps, Mr Ibrahim Raji, told newsmen 45 per litre.
"The exercise is to ensure that where fuel is available, it is dispensed to consumers.
"Some filling stations have the product but are not selling same, so we monitor and ensure that   they start dispensing,'' he said.
He said the command was also visited some Local Government headquarters to embark on the same exercise.
Newsmen gathered that the NSCDC  inspection team also included members of the Critical Assets and Infrastructure Unit, as well as the Department for Petroleum Resources (DPR) Bauchi office.
Speaking to newsmen on the exercise, Manager of a filling station in Misau, Alhaji Shehuwa Bello, advised the team to visit the stations in plain clothes to ensure the success of the exercise.
Also, some motorists, Mr Inuwa aIbrahim and Malam Mustapha Adamu who spoke with newsmen, commended the NSCDC and urged the corps to sustain the exercise as it was helping in ensuring the availability of the commodity.
NAN