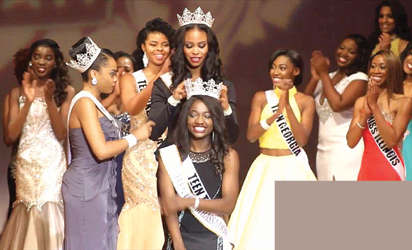 •A beauty pageant
… says dignity of beauty queens traded
By Gabriel Ewepu
AN upcoming Nollywood actress, Abdul Mercy, advocates for a regulated beauty pageantry industry that would curb excesses and promote professionalism.
This was the assertion of Mercy while she bare her mind on what she described as abuse of the essence behind crowning a beauty queen who supposed to be helper of vulnerable people and role model that impacts positively on the society through her project for the year.
Mercy whose base is Abuja studied Theatre Art started acting in the Nigerian movie industry since 2009, which in 2012 starred in 'Life for Life', then in 2013 starred in 'Who the Cap Fits', while in 2017 acted in the movie titled 'Silent Conscience'.
According to her pageantry supposed to be taken with high sense of discipline and focus, but has lost its glory as queens just emerge from various occasions people feel like staging a contest for their selfish purpose, therefore has no meaning and value as expected, rather has become unprofessional.
She called for a law that would protect the pride and dignity of women who contest as beauty queens in order to reduce the sexual harassment and other vices they face.
She said: "My concern is the way the pageantry industry has been abused, which you see Miss this and Miss that which does not make any meaning and at the end of the day you can find any project these queens are embarking.
"By this the essence of them emerging queens is defeated because you don't really know the reason these contests are being set up. The essence of pageantry is to impact lives in the society.
"Why do we have queens all over and they are doing nothing? The contests that are coming here are to be limited. If possibly we should have a body that will checkmate the proliferation of beauty contests in this country.
They are to approve the ones that are worth coming up and being staged and the organizers if they fail to uphold or adhere to standards they should be dealt with, and it will go a long way to sanitise the industry and this will also limit queens emerging here and there."
She further stated that the body that will be set up will also do a follow up after a contest and ensure the queen has a project that touches lives of people.
"The body that will regulate the activities of the pageantry industry will ensure the organizers have a project the queen is doing and also the dignity of the queen should be protected. There are many cases where these queens are sexually harassed and exploited by some of these organizers of the event.
"This is very disheartening and painful. The young woman has her dignity to be protected but people who are callous take undue advantage to destroy it for pittance they pay them. This should stop" she said.