By Soni Daniel, Northern Region Editor
ABUJA—For the second time in less than a month, the Federal Government insisted, yesterday, that there were no spurious items of expenditure in the 2018 budget currently with the National Assembly for scrutiny and approval.
The explanatio was contained in a statement released by Special Adviser (Media) to the Budget and National Planning Minister, Mr. Akpandem James, in Abuja.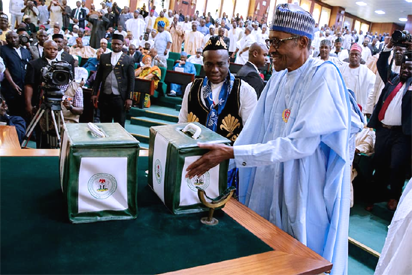 The ministry made it clear that contrary to insinuations by commentators, all the items captured in the budget were well conceived and carefully provided for by the respective agencies of government.
It pointed to some of the items, including N10 billion for settlement of liabilities to contractors; N22.6 billion for Research and Development; N308.42 million for procurement of riot control equipment for police formations; N2.21 billion for Social Media Mining Suite by the Department of State Services and N338 million for computer software acquisition in the Federal Ministry of Finance, which were termed as suspicious by BudgIT,  a civil society organisation active in the budget space, are genuine provisions already explained by the relevant MDAs.