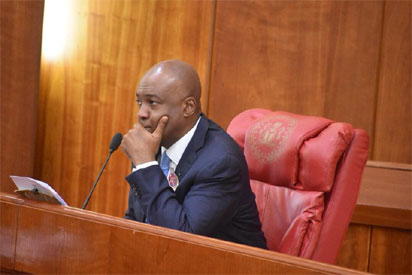 Saraki
President of the Senate, Dr. Abubakar Bukola Saraki, has condemned the recent killings in Benue, Rivers and Kaduna States that left countless Nigerians dead, describing the attack on the affected communities as 'heinous' and 'reprehensible', and called on all Nigerians to remain united in their condemnation of violence.
He said: "The recent killings in this new year that have left many families without their loved ones, and several communities in distress was a reprehensible act of violence. As Nigerians, we must all remain united in our condemnation of violence. Such actions have no place anywhere in our culture. The killers and perpetrators of this callous act must be caught and brought to justice. The Senate will continue to render all necessary support to ensure that this happens.
"I call on our security forces to continue to work around the clock to ensure the safety of the affected communities — and all communities across the nation. Such random and widespread acts of hate and disorder are part of the reasons why last year, we inaugurated an Ad-Hoc Committee to Review Nigeria's Security Infrastructure for better delivery across the board.
"The committee is still at work, however, now it is clear that we need to review, re-vamp and reposition our security apparatus across the nation to be able to respond to the diverse nature of the crises and concerns of various communities. I still believe that the intelligence gathering aspects of our security system is not measuring up to standard.
"We need to ensure that our security system could gather relevant intelligence and analyse them to prevent activities of hoodlums and insurgents so that we don't always cry after the milk is spilt. These killings, like those that occurred in Benue, Rivers and Kaduna are becoming too recurrent and the relevant Senate committees will hold discussion with the Senators from the affected states with a view to having a proper understanding of what the issues are and make appropriate recommendations to the executive," he stated.
The Senate President further commiserated with the families who lost their loved ones as well as the government and entire people of Benue, Kaduna and Rivers States on the sad incident.