…Drops new single 'The Whole Night'
BY ROTIMI AGBANA
After successfully capturing and stamping their feet on the American music scene, it is not surprising that versatile singing duo, Eghosa Rodney Agbonayinma, aka 'Row' and Osazuwa Michael Agbonayinma, aka 'Zuwa', decided to return to their fatherland, Nigeria, to claim their space on the music space as rare breeds with a smashing hit single titled, "The whole Night'.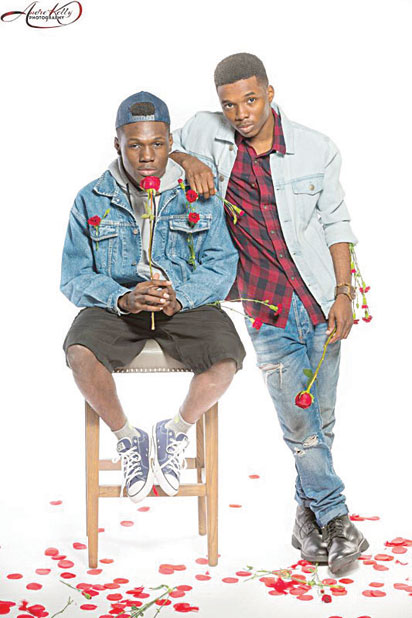 Born to House of Representatives member, Hon. E.J Agbonayinma, the budding musical greenhorns, armed with a mouth watering talent are eager to storm, take over, set a new trend and lead the pace on the music space with their rare kind of music which they claim is yet to be defined because they believe defining it may limit their creativity and versatility, which is their strength as unique music makers.
At their unveiling and introduction to the Nigerian media on Friday, January 12, 2018 at the American Hall of the Eko Hotel and Suites Signature, Victoria Island, Lagos, the two dashing teenagers explained how they intend to break into the competitive Nigerian music industry.
"We do pretty good music never seen before, and we have great musical stuff we're bringing on board. When you have great stuff you aren't scared to launch out in an industry that is complicated or crazy."
Signed to U & I Music, an entertainment platform owned by their father,  they intend to ride on the crest of his influence to stardom, as he is an elder statesman, just like Davido exploited his father's influence to stardom, and they confirmed our suspicion.
"If it is a good thing and it will take us to that high and covetous pedestal, why not? Did Davido's father support him? If he did and Davido decided to use his influence to rise to fame then why won't we do same?" said Row.
Expressing excitement, also at  at the artiste unveiling press conference, veteran movie maker, Lancelot Imasuen, was almost moved to tears.
"It is an emotional morning for me to see the talented kids being unveiled today. I have known their father for a long time and he is a lover of good music so I'm surprised that he is surprised that his boys are musically talented. I'm extremely glad to see that this came to fruition and I believe that with God, their unique talent and your support, they would become the new trend in Nigerian music", he mused.