By Henry Umoru
ABUJA- SENATE President Bukola Saraki yesterday cried out that the National Assembly was actually grappling with funding constraints in carrying out it statutory functions, despite the widespread perception that the National Assembly was being overfunded.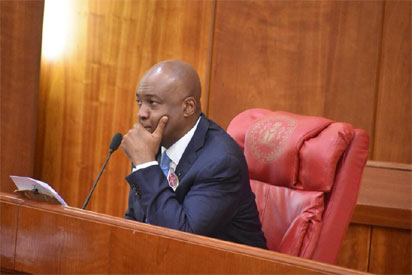 According to Saraki, lack of adequate funding remains the major challenge of the National Assembly.
The Senate President disclosed this yesterday in Abuja when he paid a working visit to the Chairman and members of the National Assembly Service Commission (NASC) at their temporary office located in Utako.
Responding to the request of the Chairman of the Commission, Mallam Adamu Fika, to have a permanent office of the Commission inside the National Assembly complex, Saraki who pledged the support of the leadership towards the project, said: "One of the things that I see here today is the issue of budgetary constraints. However, the impression around the country is often that the National Assembly has too much money. But we have seen the challenges of the last few years.
"As we work through the number of bills passed, the public hearings held, and the number of ad-hoc committees that have been established — we know the challenges of not being able to fund some of our activities.
"So far, I am happy to report that despite these constraints, the 8th Senate has been able to surpass all previous Senates in the number of Bills that we have passed in 2-years — despite the funding gaps.
"We know that as we continue over time, people will begin to have more confidence in the National Assembly. However, right now, the challenges that we have are the issue of perception, and the issue of funding. We need to work hard to change this", he said.
Saraki who is also the Chairman of the National Assembly, however explained that it has not been easy for Nigerians to appreciate the various roles of the legislature as an arm of government being the youngest of the three arms of government.
The Senate President said, "Therefore, we all have a lot of work in trying to make the people appreciate the role of the legislature in our democracy. This has not been easy, this is why I am sure that working with the Commission, we can work towards this together so that we can improve the image of the National Assembly."
Earlier, the Chairman of the NASC, Dr. Adamu Fika, who lamented that the commission still operates from a rented apartment with the attendant cost, however urged the leadership of the National Assembly to come to its aid by supporting it to build a befitting permanent office within the National Assembly complex.
He commended Saraki for being the first President of the Senate and Chairman of the National Assembly to have visited the office of the commission.
Subscribe for latest Videos