By Peter Duru
Governor Samuel Ortom in this interview reacted to comments credited to Nigeria's Minister of Defence, Mansur Dan-Ali on the invasion of the state and killings by alleged Fulani herdsmen. He maintained that they were an indication that the Minister was part of the conspiracy against Benue State and lots more.
Excerpts.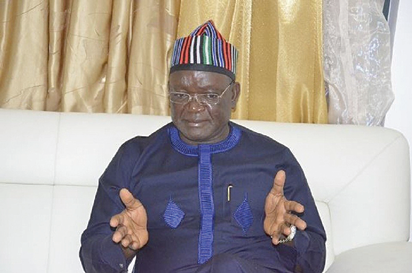 What's your reaction to comments credited to the Minister of Defence that the killings in Benue and Taraba states were as a result of Anti-Open Grazing Laws?
We are not distracted, the anti-grazing law was done in the best interest of Benue State and Nigeria. Before the law came in place, Benue State was attacked more than 40 times and we suffered casualties and destructions.
In 2014 alone, an assessment by the Bureau of Local Governments came out with a figure of N95 billion that was lost in terms of property and assets of Benue people, destroyed due to herdsmen attacks.
Thirteen local government areas out of 23 were under siege. The herdsmen came and took over the entire land.
When we came in 2015, this challenge continued, the killings continued, the burning and destruction, the raping of our wives and children continued.
And we tried to broker peace as law- abiding citizens and as people who believe in leadership with the fear of God. We did everything to ensure that we had peace yet the peace we were looking for never came.
And as leaders with the responsibility of providing security for lives and property, we prayed and God directed us and we went into research. We discovered that globally, cattle ranching remains the best practice in animal husbandry around the world.
Argentina and Brazil earn much from beef export but they ranch. America produces cattle more than most countries of the world, they ranch. China and other Asian countries do same; even in Africa, it's the same practice. Swaziland is one of the smallest countries in Africa that earn much from beef; they also ranch.
What we did was the popular wish of the people. The law was not smuggled. It was a product of the cry of the people and as a responsible government, we heard their cry and presented a bill before the State House of Assembly that went further to do public hearings across the state to get the input of everyone that was concerned because of the importance of the bill.
Today, you talk about ranching in some states, grazing reserve in some states and tomorrow you talk about colony.
I don't understand, when globally what is being practised is ranching.
I heard and I saw the Minister of Defence after their security meeting. While briefing the Press, he said it was the law prohibiting open grazing that brought the killings in Benue State. I saw that and I said to myself, it cannot be the Minister of Defence!
Somebody who worked and retired from the army after attaining the rank of a General. This is someone who is a Minister, who is educated and has travelled far and wide round the globe. How could he say that?
'Honourable Minister of Defence, if you said that kind of a thing, where were you as the Minister of this country when herdsmen were carrying AK-47 and weapons higher than AK-47 and were going about killing my people and you want me to keep quiet? And I begin to wonder. The other day, the Federal Government came out with a pronouncement that it was ISIS, a terrorist group in West Africa that is attacking Benue people and on the other hand, I was told that the Minister said that we should accommodate foreigners.
What a country? Foreigners come in without valid papers and they come to take over your land and you surrender it to them? Minister, I will not do that in Benue State, we will not surrender our land.
You can go and do it in your own state and not in Benue State. These people who are supposed to be assisting Mr. President are there for their selfish interests, misinforming him, misdirecting him instead of guiding him to do the right thing.
Killings are going on in the states and they are talking about law. Is there any grazing law in Adamawa, Plateau, Kaduna, Enugu, Kwara, Zamfara and several other states? Is there any law prohibiting open grazing in those places?
Innocent people, pregnant women were slaughtered and a minister will come out and say this kind of thing; it is unfortunate, really unfortunate.
But I want to send a message, that the God I serve lives. The God I serve is the God of justice for the poor and innocent.
They can do whatever they like today because they have the power but God is our defence. We will continue to be law-abiding.
You talk about hate speech, how can people keep quiet? If everybody keeps quiet, I'm not going to keep quiet. I'm going to say it. What they are doing is wrong. They should stop diverting attention; they should address these issues.
All ethnic groups in the country and even foreigners who have valid papers are free to come to Benue State to do business. But if you stay in Benue State, you must obey the laws of the land, that is the point we are making.
Could these comments from  appointees of Mr. President mean that they are acting his script?
Well, I'll see what Mr. President will do because I'm sure that he must have also heard what the minister said and I expect that he'll respond to that because it's wrong. But I don't want to believe that the Mr. President I know and whom I supported and I'm still supporting, an upright person who is always truthful, will say the right thing and caution his minister because I can't believe that a minister of the Federal Republic of Nigeria at this time will come and add salt to our injury. We are pained by what this man came out to say.
Are you not scared that these people might be ganging up against you?
Whatever it is, it does not matter as long as I'm on the side of truth and doing the wish of my people, I'm satisfied. I don't care about any gang-up. It doesn't matter. But I heard it – gang up to do this and that but it doesn't matter.
We understand that apart from the 73 people that were given mass burial, people are still being killed. Can we get an aggregate figure of those killed since the renewed attacks on Benue communities on January 1, 2018?
I've not gotten the complete figure but there is a committee working on that. But even at the burial, I did say that the deaths were more than 73. Even a few days ago, there were some killings in Guma, including a policeman, one policeman was wounded and one is still missing.
You see these people are joking. If terrorists that are hired by herdsmen under the leadership of Miyetti Allah Kautal Hore that are known by the Federal Government have gone beyond killing our people who are civilians to killing security personnel, if security men are being killed in this manner, where is our safety? That is what the minister of Defence should be concerned about.
They know where these people are so they are making me to believe that the Minister of Defence is also part of the conspiracy against Benue State and is not about grazing. It's about occupation, taking over the land and that is what Miyetti Allah said and they have accepted that it should be so. This is not correct.