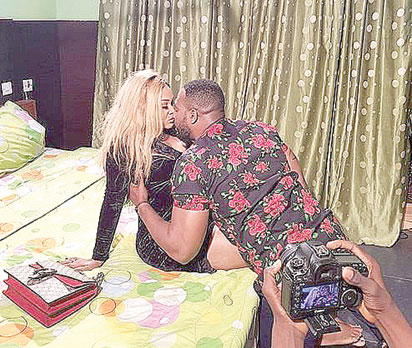 Mercy Aigbe and Ninalowo Bankole
By Ayo Onikoyi
Top Nollywood actress, Mercy Aigbe, who recently left her husband, Lanre Gentry over allegations of domestic violence and widely acclaimed new hunk or sex symbol of Nollywood, Ninalowo Bankole may not have been done on the location of the movie 'Judas' but pictures they have posted from it have already started causing outrage among their fans and followers on Instagram.
One of the pictures which had Mercy sensually moaning from advances from Ninalowo, who had her clutched in his arms have attracted well over two thousand comments with close to 100 thousand likes. It was a battle of words and wits among their fans as they go for one another's throats in commending or condemning the acts.
One of particular interest is a follower of Mercy Aigbe, named 'akbob47, who accused the actress of having gone over the edge in the scene, comparing her to Omotola Jalade-Ekeinde, who, in his own opinion has upheld her dignity in discharging  her duty as an actress.
"We condemn her because she is one of us and we won't see something bad happen without saying it. Forget Nollywood for now. Would her children want to watch such a movie like this? Even Omotola won't do this in the name of acting and that's because Omosexy is matured and content. Aigbe Mercy is living the life of a pervert as long as this  scene isn't fake or film trick. Let her learn  from our words because if my mum does this I'll be ashamed of her big time," he writes.
Another follower, called Ehiz, also reacted in like manner, saying Mercy hasn't portrayed herself as a good mother to her children
"She has kids, right ? How would those kids feel seeing their mother kissing and romancing another man, all in the name of acting, if she is single, no issues,but for the fact she is married with kids ,she should stay off roles like this, he added.
These and many other antagonizing comments got another follower of the actress, named Ivie009 reacting furiously in her defence, saying it is nobody's business but hers.
"People should mind their business and besides, before you all judge, why can't you use your sense and zoom the pictures to see that they were not kissing, his nose is right on her lips, not even a video, it's still a picture and all this insult. Na wa ooo. At least, her kids didn't complain or comment on it for everyone to see. Learn to respect her, she owes no one any explanation and I don't think if you don't marry it's not a ticket to enter heaven. One love Mercified," she writes
However, two followers, OJB Motors and Lil Fierce took their banter of words a notch higher, making it a bit personal.
"Nigga can you allow your wife to do that rubbish? Before you talk further, I'm a trained actor.. There's something they call over acting..Mind you, you cannot overrule the cultural and religious values in this part of the world.. The Western real lifestyles are what you see in their movies! Copying their lifestyles into our own movies calling it acting is a big misplacement of priority… If you go to movie locations a lot of rotten things happen there. Have you asked yourself why Nollywood actors don't marry their female colleagues?, fired OJB Motors
To which Lil Fierce retorted: "Sorry, you said you're a trained what? Actor or you were trained to be senseless? If you can't allow your wife to act that then you shouldn't be allowed to act either.  Did they teach you in your quack acting school that portraying reality in a movie is over acting?  If yes, then you need to go get the 1 kobo you paid for that acting class."