By Chimaobi Nwaiwu
NNEWI—THE Movement for the Actualization of the Sovereign State of Biafra, MASSOB, said it will do everything within its power to frustrate any attempt to establish cattle colony in any part of South East and Biafran land in general, adding it a devious way of imposing Islam and ceding Biafra land to people with sharp difference in their way of living with those of Biafrans.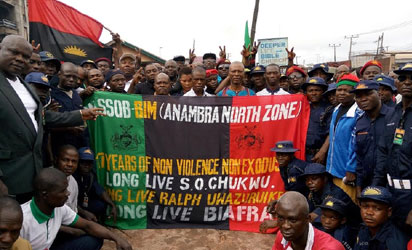 MASSOB, in a statement signed by its National Director of Information, Comrade Samuel Edeson, said that it has been studying the issue of establishment of cattle colony, since the idea was made open to Nigerians and have discovered its hidden agenda, and is now reacting to it, with a decision not to accept it in the South East or any Biafran land.
He said: "MASSOB under the leadership of Comrade Uchenna Madu.has said it before and still maintains its stand that it will not accept the President Buhari led Federal Government sponsored cattle colony in any part of Biafra land, and South East and any land of Ndigbo."
"MASSOB will defend Biafra land with enthusiastic spirit of no retreat no surrender. We are ever ready and willing to protect the lives and properties of our people. MASSOB is making it clear that any state Governor who ceded any part of our God given land to these terrorists called Fulani herdsmen will be treated as an enemy of Ndigbo and Biafrans in general.
"The people of Biafra have their diverse cultural, traditional and religious heritage clearly different from those of the herdsmen, our social interactions, linguistic and nativities sharply differ from their own, MASSOB will therefore, never accept imposition of Islamic religion and culture on our people through any devious and dubious means."
"We therefore, advice Igbo governors   not to succumb to pressure from the Federal Government in ceding out any portion of Igbo land to Fulani herdsmen, it will be disadvantageous to our people. An Igbo governor who succumbed to Hausa Fulani pressures against the interest and position of Ndigbo will be seen and treated as an Igbo saboteur who has invoked the wrath of our ancestors against his family."