The Igbimo Oduduwa Youth Consultative Forum has called on the newly installed Aare Ona kakanfo to make the unity of Yoruba nation a priority.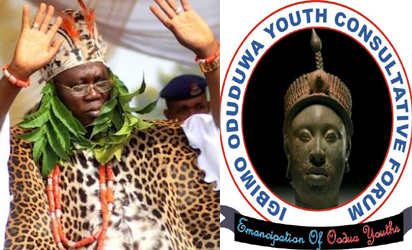 The charge follows the installation of Otunba Gani Adams as the 15th Aare Ona Kakanfo of the Yoruba race last weekend in Oyo.
A statement signed by the group's Publicity Secretary, Olayinka Sokoya Esq read "It will amount to a rape on courtesy and morality if we the umbrella body of the South West Youths fail to acknowledge the giant and courageous step taken by Alayeluwa, Alase Ekiji Orisa, Iku baba yeye the Alaafin of Oyo for putting a round peg in a round hole by the installation of the Akinkanju himself Otunba Gani Adams as Aare Ona kakanfo of the Yoruba race.
"This is nothing but a gigantic stride in the annals of history. However, Igbimo Oduduwa Youth Consultative Forum being the umbrella body of all the youth based organizations in Oduduwa land worldwide equally wish to state unequivocally and without sounding immodest that our Aare Ona Kakanfo should make unity of the Yoruba nation a priority.
"Aare should help in repositioning the South West to ensure we are again placed among the enviable nations of the world. Aare should strive to unite the youths whom I believe are his strength and greatest assets. We are not unaware of the milestone achievements Aare made as the voice of the voiceless being the leader of the Oodua Peoples Congress. It is our strong belief that your season as Aare Ona Kakanfo for the Yoruba race will bring sustainable growth and development to the Yoruba nation. Accept our deepest congratulation"
The title of Are Ona Kakanfo was created to check the excesses and frequent incursions into Yoruba territories.