By Evelyn Usman
A robbery suspect, Ogundemi Olayinka, who disguised as a lunatic, has been arrested at Railway Point, along Agege Motor Road, Lagos.
Parading the suspect yesterday, at the Lagos State Police Command headquarters, Ikeja, Police Commissioner, Imohimi Edgal, stated that the suspect was arrested by policemen attached to ManCentre Division, yesterday.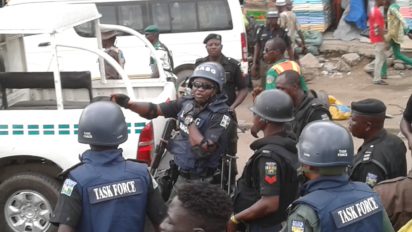 He said: "Policemen had been keenly observing the behaviour of the suspect and adjudged him a pretender. They searched him and found a toy pistol, POS machine, two banks' tokens, identity cards, a bunch of keys, a live tortoise, a mobile phone, ladies bangles, necklaces, wristwatches and a laptop charger."
During preliminary investigation, Edgal stated that the suspect could not give a satisfactory account of himself.
Approached, the victim told Vanguard that he was not a madman. Asked why he disguised as one, he stated that it was for a purpose known to him alone.
When Vanguard probed further, the suspect, who had dreadlocks, started speaking like Jamaican Patois, claiming he was a Rastafarian.
He said: "I am 25 years old and I live at 12, Ayuba Adewale Street, Ajao Estate. I am from Ekiti state. I am not mad, I only disguised as a madman. Immediately I was arrested, my tortoise died.
"This (pointing to the POS machine) is the communication between my people and I." At this point, he became incoherent.
"As a Rastafarian, I need a gun," he concluded.
Investigation into the case, according to Edgal, was still ongoing.