By Henry Umoru
ABUJA—THE Senate, yesterday, raised the alarm that it was offered a vessel as  bribe to kill a petition brought against an oil firm for allegedly flouting the Nigerian Oil and Gas Industry Content Development Act.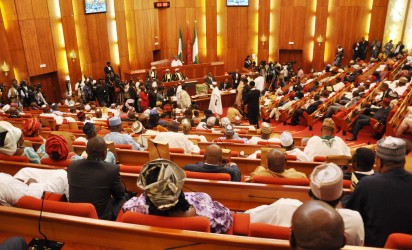 Disclosing this, yesterday, in Abuja when the Senate opened a probe on allegations of irregularities against Total Nigeria and National Petroleum Investment Management Services, NAPIMS, Chairman, Senate Committee on Local Content, Senator Olamilekan Solomon Adeola, (APC, Lagos West), who disclosed this, noted that the offer was rejected.
He said he was aware that there were forces trying to scuttle the contract validly entered into between the oil firm and members of the Indigenous Vessels Operators Association of Nigeria.
Adeola, who was responding to the call of the petitioners for the Senate committee to investigate the matter to determine the overall propriety, whether there were other interests other than national interest at play, said: "They offered me a vessel to abort this Senate committee of local content's probe and I refused.
''We have received ample information to take decision or resolve this matter, but for the sake of the principle of fair hearing, it's the very reasons we want to hear from the representatives of other stakeholders involved in this case."
Bidding to include local vessel contractors
Meanwhile, the Senate has ordered Total Nigeria and NAPIMS to resume bidding to include local vessel contractors left out in initial tendering opportunity that was cancelled.
The action followed a petition from Indigenous Vessel Contractors accusing Total Nigeria and NAPIMS of excluding their members from the process after four years to pave the way for other bigger local vessel operators where Total Nigeria and NAPIMS allegely have vested interest.
Total Nigeria came more under the fire with allegations that it canceled the original contract because local contractors, Total Nigeria that was total interested could not make the list, just as it was alleged that a director in Total Nigeria who wants to corner the contract had gone ahead to register a vessel.
Senators, however, frowned on these alleged irregularities which they believe violated extant laws in the oil and gas sector as well as the Procurement laws.
Total denies any wrongdoing
Executive Director, Corporate Services, Total Nigeria, Abiodun Afolabi, who denied any wrongdoing, claiming that his company has not in any way violated the law in the handling of the tender initiated since 2012, said  there was the need to change strategy because of the long gestation period it takes for contracts in the oil sector to be completed.
Rather than pacify the lawmakers, the explanation angered the lawmakers the more, especially when Total Nigeria had earlier certified the Indigenous Vessel Contractors as technically and commercially qualified for the contracts.
The Committee on Local Content then directed that the Nigerian Content Development and Monitoring Board, NCDMB, should give a waiver to the National Petroleum Investment Management Services, NAPIMS.