By Simon Peters Abuh
Evangelist Franca Emekobum, the National Coordinator of the Voice of Humanitarian Aid Foundation (VOHAF), a support group for persons affected by leprosy and their family members, speaks on the mandate of the body.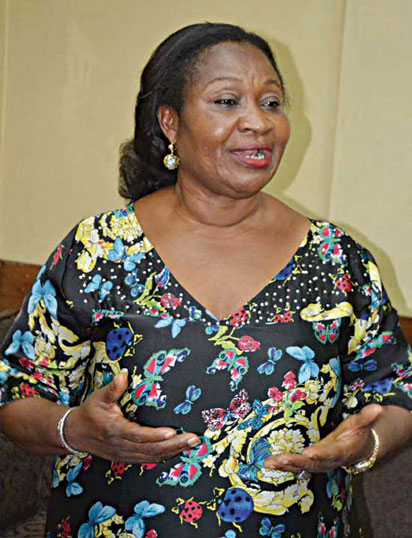 What exactly is this body all about?
We are a humanitarian organization with response to the plight of persons affected by leprosy and their family members. And we have an ongoing program on the elimination of discrimination against this category of people.
How did VOHAF happen?
It's a divine call delivered through a revelation from God. The Lord told me that these people have been forgotten and that He would like to use us to create awareness; that's how it started.
When was this?
We started VOHAF on December 30, 1998. Since then we have been in the field visiting the colonies where the affected persons and their family members live. In fact this is our 20th anniversary which coincides with the World Leprosy Day celebrations.
How have you been able to affect the lives of the people living with leprosy since you started?
We have been able to create awareness, reach out to them, provide welfare support especially to the children of some of those below the poverty line; up to twelve of such children are on our scholarship scheme. We have also been able to empower some victims with small scale businesses, as well as give them foodstuff, clothing while helping to keep their environment clean. We encourage them to put their children in school, educate them on their rights and develop their human potentials.
How do you get support to sustain this project?
We approach churches and sometimes task ourselves to be able to reach out to victims. We haven't been getting support from government or corporate bodies. Most times we task ourselves, make personal sacrifices and, at times, well-meaning Nigerians give a helping hand.
Do you help the affected persons with medicals too?
Yes, we do with the help of a foreign NGO known as Damian Foundation which occasionally acts as our partner. They are actually in charge of Lagos and Oyo, while the German Foundation is in charge of the South-East. We partner with the two Foundations which actually are responsible for medication for victims.
What are the activities for your 20th anniversary?
The 20th anniversary coincides with the World Leprosy Day which holds on January 28. So we are on awareness creation. The opportunity will afford us the opportunity to speak with the public so they can join us to eliminate discrimination against persons affected by leprosy and their family members.
These affected persons have been forgotten by Nigerians and they are actually going through a lot; hence they need support in any way possible, especially in the area of drugs and to tackle the stigma that often stops people from coming forward to take treatment. What we do is to educate people that they can actually support them; they should not be left on their own.
What should people expect in this year's anniversary, where is it holding?
We are creating awareness in schools, churches even mosques about leprosy. This year's event starts with a thanksgiving service on Sunday, January 28, because we have been around for 20 years and the Lord has kept and sustained us.
We are celebrating the occasion at King Purpose Assembly, 8, Balogun Street, Balogun Bus Stop, Off Obafemi Awolowo Way, Ikeja Lagos.nLeprosy is a disease that is not highly contagious; one doesn't get infected by affected persons who are already taking treatment ,otherwise the children of the affected persons who are on drugs would have been infected too.
We want everybody to know that leprosy still exists in Nigeria, and victims need care and love. The reason we want people to join us in this fight against stigmatization and isolation of victims is that leprosy is curable if detected early and treated.   This will also help other affected persons out there who, for fear of stigma, are dying in silence.